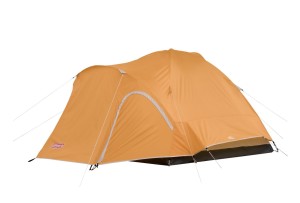 Are you looking for a 3 person tent that has somewhere to put your gear? This tough little tent could be the answer, although it has some quirky features you need to look at before deciding to buy.
Opinion is divided on this one and I think you will have to make up your mind by thinking about what is most important to you when you go camping.
Let's have a good look at the advantages and disadvantages of this tent and see how they affect your decision depending on your style.
Check Price of Coleman Hooligan Tent at Amazon
Size and Comfort
This a roomy tent with a good vestibule, not something you will find often among these 3 man tent reviews. I say "roomy" with the usual reserve that it will sleep three people comfortably, with a small amount of extra space to spare. The nice part is having somewhere to put your boots or pack outside the sleeping area and under cover. In contrast to other 3 person tents reviewed, many say that this is a true 3-person tent.
The entrance is necessarily at an angle because of the vestibule, and the doorway is low, so you need to be agile to get in and out. The advantage of this arrangement is that the doorway is protected from the wind and you have a dry area to protect the sleeping space when it rains. You can sit in the doorway and divest yourself of any dirty or wet gear before entering!
Two adults can be very comfortable in this tent as a double air mattress fits inside with space at the edges, making it a good choice for car camping or long distance touring with a motorbike. It's a good strong tent for scout troops with three to a tent.
Interior storage pockets provide a place to keep smaller belongings to hand.
Season and Weather
If your outdoor adventures are taken in spring, summer and fall this tent will see off whatever the season wants to throw at you. The mesh inner tent and the full cover coated rain fly combine to protect you from rain while allowing good ventilation and air circulation in the summer. The extra air vent in the top can be opened too, and for dry weather in the heat you can just use it as a screen tent and remove the fly altogether!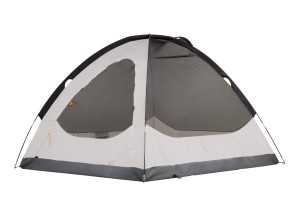 This same advantage becomes a disadvantage in extreme cold so, although it will stand up to heavy rain and strong wind, it won't keep you warm. This is a three season tent.
If you don't want to invest in a (usually more expensive) 4 season tent, and you can't resist camping in low temperatures, suitable warm sleeping bags and clothing will be essential.
The sturdy two pole construction and the cross-over design for the pole supporting the vestibule, together with the many guy lines ensure good resistance to strong winds and severe conditions.
Floor
The 1000 denier polyethylene 'tub' floor is welded to the walls of the inner tent giving extreme weather protection. Even the corners have welded seams to prevent leaks.
Coleman Hooligan 3 Tent Check Price at Amazon
Weight
This Coleman Hooligan 3 tent is described as a lightweight tent by the sellers and many camping users agree. However, unless you are a strong walker you may find it bulky and a bit too much to carry for backpacking. You might be better off dividing the parts among the party.  Any extra weight is of no consequence if you are camping with a vehicle and going on day hikes from a base camp.
The Carry weight is 11.57 lbs. If in doubt perhaps you could pack up a bag of about that weight and see whether it's too much to add to your backpack before buying – if lone walking is your thing you might prefer the Coleman Hooligan 2 man tent 🙂
Ease of Set Up
It's not difficult to pitch this tent in spite of its many stakes – 13 stakes for the fly, and 4 for the tent. Setting it up could be a bit of a challenge on hard ground or very sandy areas and you would be advised to get sturdier stakes than those supplied. Apart from that it is easy to set up and can be done by one person. As the only adult with a couple of kids skipping off to explore on arrival it can be managed, but it's easier, quicker and more fun with two.
Coleman states the set up time as 10 minutes and many users say that time is easily achieved. Some users say they can set it up in 15 minutes. It could take up to 20 minutes to erect this tent properly on your own, but if you expect to encounter some rough weather it is well worth the extra effort.
I find the process of  setting up camp does speed up with experience with any tent and a practice run at home with a new tent is always helpful.
The easy to follow instructions are sewn in to the carry bag.
Some users mention that taking some care over the tension when you stake out the fly is important if you want maximum benefit from the vestibule.
Dismantling the Hooligan 3 Tent
Breaking camp is easy and it takes less time to take down this tent than to erect it. Exercising some care when folding it up will ensure it fits into the supplied carry bag.
Video Overview of the Coleman Hooligan 3-Person Easy Setup Tent
Durability and Quality
This is a well-made sturdy tent with a tough welded floor that wraps up the sides, bathtub style. The coated polyester fly has inverted seams, sealed at the factory to keep water out.
There are two Shock corded fiberglass poles and Snag Free continuous pole sleeves.
The zipper quality could be better but most complaints refer to the zipper on the bag breaking if the tent is not rolled up tightly. A caution against too much haste when breaking camp.
The stakes are adequate but stronger ones would be better.
Coleman Hooligan 3 Tent Check Price at Amazon
Best Uses and Camping Situations for Your Tent
For versatility the Coleman Hooligan 3 tent measures up well and can be used by different types of campers in a variety of situations depending on the individual, and expectations. This is not a tent we can recommend for all-round use as some positive design features become negatives in different scenarios.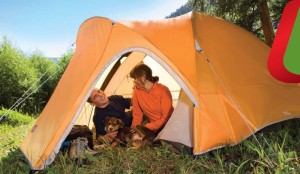 The tent works well when travelling with a vehicle, be it a car or motorbike, both for site camping and in the wild without a long hike.  In adverse weather conditions the ground must be soft enough to allow the necessary stakes to be used to benefit from the superior protection this tent can provide.
It's great for a weekend camping trip in the mountains for two or three people, a couple with their dogs, or a single motorcyclist wanting to get away from it all.
This tent is affordable for scout troops or other groups when several tents are needed. The kids should have no problem pitching the tents and the tough construction should stand up to less than careful treatment by those rough and tumble boys and girls.
Backpackers in groups of three will have no problem if each carries a part of the tent; many find it too much for one person to carry. The Product Description describes it as a 3 person backpacking tent and it's not intended for a solo backpacker at all. Users complaining that the description is wrong are assuming that one person is adding the whole tent to their full pack for a solo expedition – Why would you take a three person tent on such a trip?
If you have iffy knees, stiff joints or are very heavy or tall the crouching position required to get through the vestibule could rule this one out for you. Have a look the Coleman Sundome 3-Person Tent as it could be a better option for you. For those for whom a short crawl is not a problem, the extra sheltered space and protection gained is a big plus.
If you want to sleep in the open while still protected against bugs this tent will give you that option with ground protection too, but don't expect privacy – it really is mesh only if you don't fit the fly!
Consumer Experiences
This is a well-loved tent with many enthusiastic Coleman Hooligan 3 Tent Reviews by a large number of campers, both seasoned and beginners.
A great many recreational campers have had a good experience with this tent, keeping dry when others in camp have got wet, some being gleefully surprised after a night of storms.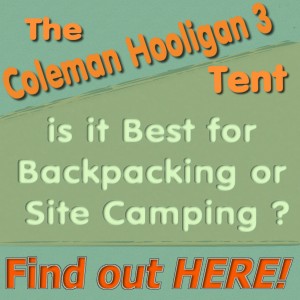 Users do say that the tent is not quite lightweight enough for hiking but that it's not exactly heavy either. They would take it for a day hike, camping away from the car for a night, but not on a prolonged backpacking venture. I did notice that these people were seldom three in number and I didn't come across anyone who had actually used it as a 3 man backpacking tent. Maybe most backpackers are in pairs  – or much larger groups or simply prefer not to share the sleeping area with more than one other person. It would be interesting to know whether threesomes are common…
If you are that awesome threesome why not let us know in in the comment box below. We would welcome your experience.
There are some who bemoan the lack of windows, especially during enforced periods under cover in the day-time during rain and occasional regret is expressed at the lack of a high hook for the lamp, usually solved by improvisation first time out and by sewing in a loop later on.
This is not a tent to stroll about in but feels roomy with its fairly high ceiling when kneeling or sitting. Shorter folk can stand up in it and the taller users say they can stretch out to sleep.
Some have even used it freestanding in clement weather or indoors for the kids to play. The inner mesh part is a standard dome tent and is completely free standing so users set it up folding back the fly out of the way, just draped over the top. Not your everyday use but good to know it can be done.
New users have found the tent easy to pitch and dismantle, but quite a number say it is bulky.
Out of the box
Yup – it's all there. This Coleman Hooligan 3 person tent has everything you need to set off today on a trial run! That is to say the mesh screen tent, full-cover fly, poles and stakes.
I should mention here that the vestibule has no floor and a good ground sheet is not absolutely necessary but will be a useful addition in wet weather.
Manufacturer
The Coleman Brand is well known for producing goods related to life in the Great Outdoors and has a reputation for quality and innovation.
Accessories
The storage bag and stakes are included but you might want to consider getting some 7″ Steel Metal Tent Stakes. They can give a firmer fixing for the fly-sheet and you can get a 12 Pack.
As mentioned earlier, a good ground sheet will add to your general comfort, keeping a cleaner drier area to place your pack and shoes.
A Coleman Fiberglass Tent Pole Replacement Kit is available,, should the worst happen and they break.
Although this tent is fire resistant I would prefer not to test it! A Coleman MicroPacker Compact Battery Lantern will give out enough light to function in safety
Specifications Hooligan® 3 – Tent
Model No.2000001590
Exclusive WeatherTec™ System Keeps you dry Guaranteed™
Spacious interior, room to move
Dome construction
Snag-free, continuous pole sleeves for easy setup
Fully-covered vestibule for dry entry and added wind protection near the door
Full rainfly for protection from the cold, sun, wind and rain
Dry entry vestibule allows convenient access and adjustable airflow
Entire mesh inner tent provides maximum ventilation
Full fly offers complete protection in the harshest conditions
Storage pockets keep gear organized
WeatherTec™ System— patented welded floors and inverted seams keep water out
Insta-Clip™ pole attachments stand up to winds
8 ft. x 7 ft. (2.44 m x 2.13 m)
Center height: 4 ft. 10 in. (1.47 m)
Limited 1 year warranty
Made in China
Features
Protected from the weather with full rainfly.
The lightweight, two-pole design is easy to carry and quick to set up.
The three-season, three-person tent is designed for most conditions—mild to harsh
A fully-covered vestibule helps keep the inside of the tent clean by allowing for dry entry and blocking the wind around the door.
Full-mesh inner tent for incredible ventilation
When the weather is warm, take the rainfly off to enjoy the incredible ventilation from the mesh inner tent.
Insta-Clip™ Pole Attachments stand up to high wind
WeatherTec™ System's patented welded floors and inverted protected seams help ensure you stay dry.
The snag-free, continuous pole sleeves —reduces setup time to just 10 minutes.
The 8 ft. x 7 ft. (2.44 m x 2.13 m) floor fits three people
Pros:
Weatherproof for rain and wind
Sheltered vestibule for belongings and extra wind shelter.
Easy to pitch
Tough construction with sealed seams
Spacious
Inner tent can be used on its own for insect free open air sleeping
Cons
Heavier than other 3 person tents
Low outer door into vestibule – requires users to kneel or crawl
Stakes could be better quality and an awful lot of them
No windows or view out of the tent with the fly
No proper standing room for grown-ups
Points Mentioned in Consumer Reviews
This is a tent with character which means that some people find it horrible while its followers readily forgive its shortcomings.
Here is a summary of the things people have said:
The tent was easy to assemble – great instructions. There are frequent reports amongst users that setting up presents no problem and that there were no complications. Most people could pitch the tent on their own. Set up is easier with two. The rainfly can be tricky in the wind.
It poured rain all night, but with the rain cover, nothing in the tent got wet. It was easy to repack.
The vestibule is a great plus but harder to get in and out than most tents of this size. A real problem for some.
The rainfly is necessary for privacy. Many like the mesh interior because it allows for a great cross breeze.
It was a bit heavier than expected. Many think it is not suitable for backpacking.
There was an unusually high incidence of "I LOVE this tent". Make what you will of that 🙂
Update 2020 – This tent has remained very popular – and consumers are still divided! It really seems to suit fairly practical people best, and it's funny how many say it's great and they love it, but only give 4 star ratings.
Consumer Ratings
Ratings by consumers average around 4 to 5 out of 5 stars over several shopping sites.
Price
You can find deals on this tent from time to time and they are worth checking out, but if you are in a hurry the Coleman Hooligan 3-person easy setup tent is inexpensive for the level of quality, and overall I consider it good value even at full price. Because of the varied opinions, I suggest you consider your particular needs carefully before buying.
Check Price for the Coleman Hooligan 3 Tent at Amazon
Note: Readers from Canada and UK may be re-directed to their Local Amazon websites.