You will be able to  compare tents reviewed on this site by using the information in tables.
The reviews take time and are carefully researched, so the tables will be added over time.  They will be arranged by maximum capacity for easy navigation and will be Pages to :
Compare Tents for 2 Persons, 3 Persons, 4 Persons and 5+ Person, and may include a dedicated table for specialist Backpacking Tents and Shelters.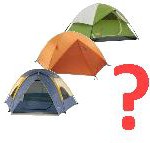 If you have never bought a tent before, it would be useful to establish how you will use the tent.  The 'Before You Buy' page might help you identify your needs.
As you can see, the first two of these tables are listed below.
I hope the  comparison tables will be useful in helping you to choose the right tent for your camping adventure!
Three person tents are widely used for two people as the accommodation is seldom sufficient for three fully grown adults to move around comfortably. However, they are great for couples with one small child or for two people camping and their dog.
Camping with one other friend makes taking a slightly larger tent easy because the load can be split, and the extra space makes a big difference to the camping experience.
These 8 person tents are great for between 4 and 8 people, and are good family tents. When comparing family tents, consider tents with a capacity larger than your family for added convenience and comfort. A family of four will be able to accommodate teens and toddlers while the parents can have a space of their own yet still be all together.