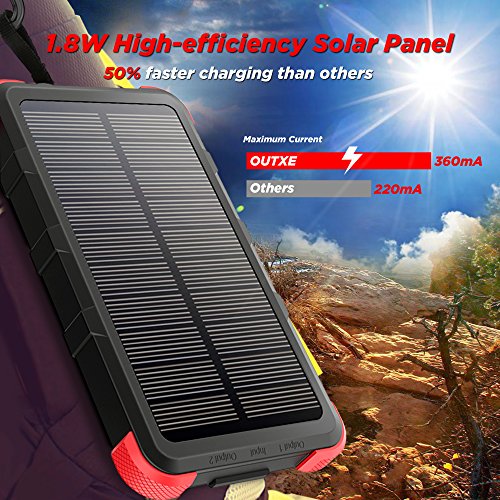 Whether you are anxious to stay in touch while hiking or want to keep the kids entertained on your camping trips, you need to be able to charge your phone on the go.
Could this be the simplest way to carry power with you – to have a battery pack, preferably one that can cope with rough and tumble?
Check Price at Amazon
The rugged OUTXE Solar Charger IP67 Waterproof Power Bank is able to withstand knocks and, when charged in advance, it can give you a reliable source of extra power outdoors. This is a battery power pack that can be used as a portable charger and can itself be charged with its own Solar panel. It comes with a cable for charging with a normal electric supply from a wall unit.
It has two usb ports for charging, a built-in flashlight for emergencies and power can be topped up on the go via the solar panel. It charges phones, tablets, cameras and everything you need that is USB compatible.
I have used the upgrade 10000mAh version myself and my detailed outxe review is based on personal experience of this version, as well as extensive research into the experience of other users.
UPDATE January 2020
Since I wrote this review in 2018, the power has risen several times and the current version is now a whopping  50000mah. Several more 'brands' of a very similar design have appeared.
I can only say mine is still going strong!
It is worth reading this review because it will you will gain a good idea of what to look out for in any similar rugged charger and be better equippped to make an informed choice. Later models retain, or have improved on the Specifications for security with Protection for overcharge, overdischarge, overload, and short circuit.
The later models are still Portable and Safe and my well-used power bank has been very reliable.
50000mah Solar Power Bank Check Price at Amazon
The Original Review
What is the upgrade on the 10000mah power bank?
The upgrade refers to the improvements made to the original product in early 2018 by the manufacturer following customer feedback. They have responded to the suggestions by increasing the capacity of the battery and the waterproof rating, adding 7mm EVA Pads to protect the battery and making thicker corner pads. I understand there have been improvements in the solar panel too.
Size and weight
Any battery pack that can store enough power to charge a high end smartphone more that once will not be super light-weight, so some users may prefer this 10000mAh pack that has less capacity than the bigger version.
As a couple on an outing together, we preferred to each carry our own power bank and keep the weight down. The size is comfortable in the hand, about the size of larger smartphones, and just over 2cm thick.
Details can be found later in the article under Specifications (jump link).
Flashlight/Torch
The LED flashlight is conveniently placed at one end and is switched on and off by double clicking the power button.
The light has three modes; strong, weak and SOS.
You can cycle through the modes by clicking the power button in succession.
Season and weather usability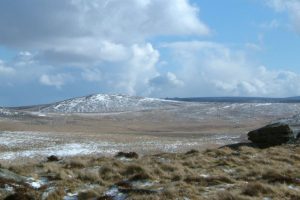 This power pack can be used in most weather conditions that are normally encountered by campers and hikers. As with any technical equipment, efficiency falls off under very extreme hot or cold conditions.
The pack is meant to be fully charged from a wall outlet before use and the solar panel is really only for backup in an emergency and to top up after using the pack to charge a gadget. When the sun is shining you can hang the pack with the solar panel exposed on your back-pack or on the outside of your tent. It will charge very slowly and a day will not be enough to fully charge from scratch.
The dash of your car is best avoided as the temperatures can easily rise to a level that will damage the unit and cause a hazard.
Although the panel will top up the charger on a sunny day, needless to say, you won't get much extra under cloudy conditions and probably nothing in the pouring rain!
However, you can charge a phone or other compatible gadget even in the dark. The pack stores the electricity that is used for charging.
Please ensure that all gadgets and their connectors are thoroughly dry before connecting them.
Never charge a wet device.
How waterproof and How Dustproof?
IP Ratings: (Ingress Protection) Is an international standard that was drawn up by the International Electrotechnical Commission (IEC) – a global organization responsible for setting international standards for electronic devices.
In order to qualify for the dust and waterproof IP rating levels and publish a rating, a product has to undergo tests.
The OUTXE Solar Charger Power Bank 10,000mAh rating is: IP67
The number 6 is for total protection against dust for the internal components from particle intrusion.
7 refers to protection against splashes and immersion between 6 inches (15 centimeters) and 3 feet (1 meter) of liquid for up to 30 minutes.
I would point out that it's only waterproof and dustproof when the cap covering the USB ports is closed, not while cables are plugged in and charging.
So What can I do with my IP67 rated power pack? And What should I avoid?
Water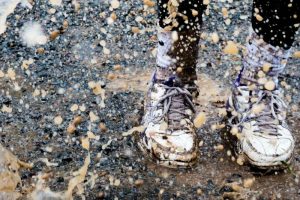 With the covers firmly closed the unit should be safe in a shower and even heavy rain. It will survive splashes and puddles too, but I would be cautious about swimming or diving with it. I would leave it on the poolside or shore and avoid prolonged contact with sea-water. The protection rating also only refers to fresh water.
Always remove any cables and close the cover after use and before hanging it on your bag, backpack or tent.
Drying it off as soon as possible after getting it wet is helpful.
Also, never ever charge any IP67 rated device while it is wet.
Dust
Number 6 is the highest rating for dust protection.
Again, while the covers are firmly closed, it can go with you to the beach or the desert and will even survive a dust storm.
It is also well protected against other tiny, fine particles and powder-type substances. If you carry it in a pocket bits of lint will not hurt it.
It is advisable to brush off loose powders before opening the covers for charging.
Ingress protection only protects the internal components from particle intrusion so I recommend that you give your gadget a thorough cleaning after exposure to very dusty conditions.
It doesn't hurt to emphasize again – never charge any device while it is wet, even if IP67 rated .
Situations for use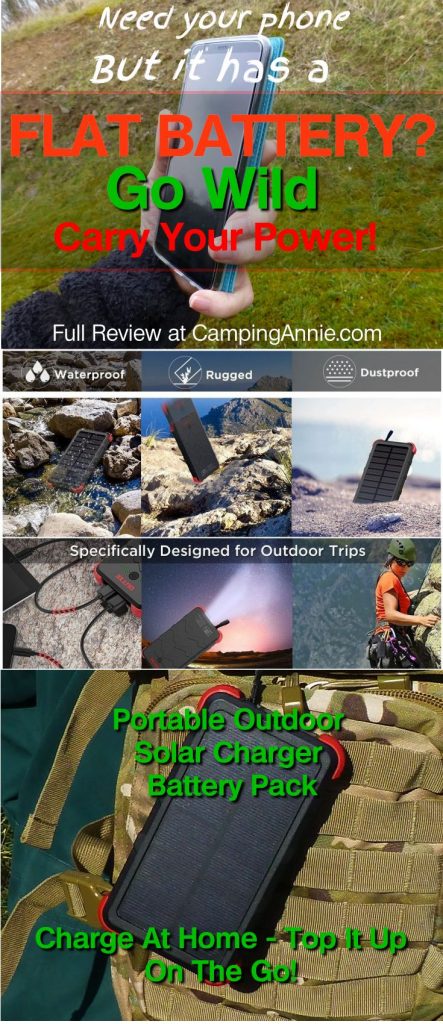 Examples of the Types of Trips you might take when you would benefit from having a portable power charger.
One Day Hikes
You might need to have the phone turned on a lot to use it for navigation. When the screen is lit up for longer periods it can eat up the juice in no time. If you are not sure your phone will last the day, the battery pack can be used to re-charge it.
Wild Camping
When your phone will have less use and with efficient use of power the power pack can enable you to recharge your phone for up to a week. Sunny days will help to keep the charger pack topped up.
Family Camping
Tablets as well as phones can be charged on the go, but we suggest that you have buy more than one battery pack, perhaps even one for each person if there will be no other supply of electricity.
Longer Road Trips
When embarking on an adventure you never know what situations you will encounter. A reliable battery pack will be a good back-up when you are caught out with no electricity.
Other Situations
Some sports are carried out in places where you cannot charge your phone, tablet or action camera.
Kayaking, off-road cyling/mountain biking are examples of these types of activities and the Gopro™ camera is often used to record the action. It's great to have the opportunity to charge up the camera when the batteries run low.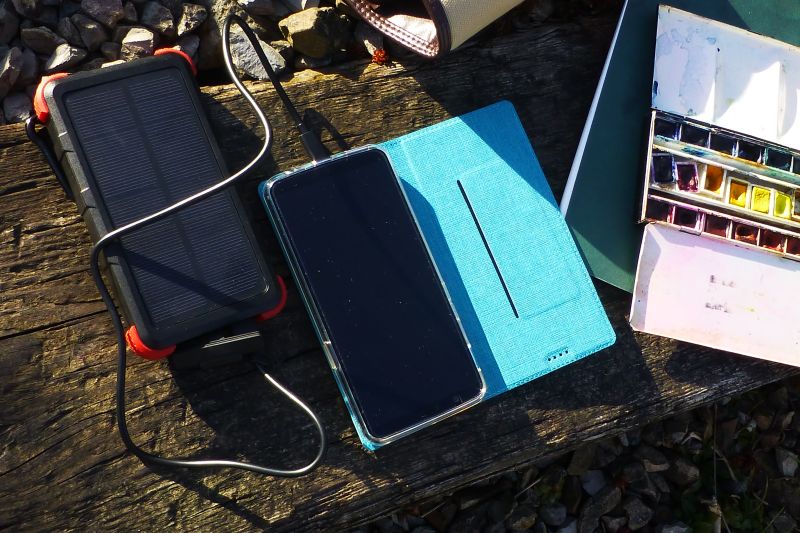 An artist friend accompanied me on a walk and stopped to sketch. We took the opportunity to plug in her phone. She was delighted!  She declared she would to buy one for herself immediately as she sketches outdoors in town and country and often has a flat battery.
Durability and Quality
The Outxe rugged power bank lives up to the name with its shockproof padded corners and thick outer shell. The connectors are high quality and it is robust enough to withstand accidental drops or bumps while outdoors.
CE, FCC, RoHS certified means it has passed safety tests and the manufacturer's claims have been verified. The built-in multiple circuit protection prevents the product from over-charging, over-discharging, over-heating and be immune to any kind of short circuits.
Reliability
I tested my 10000mAh Power Bank over two months during the winter, both in wild wet weather and on sunny days in the snow. I have not had an opportunity to test it in hot weather.
The charger has been totally reliable for charging my smartphone and I have been able to charge it 3 times before re-charging the power pack. Even then, the power pack was not empty but I recharged it at home, ready for the next trip.
I would not rely totally on the solar panel charge, but know it is there mainly as a trickle charge to keep it topped up.
Every outdoor activity carries the risk of knocks, spills and minor accidents. A tough charger that will take a bit of rough and tumble, that will not fail because of a drop of water and will put up with dusty conditions is needed in many outdoor and camping situations.
The OUTXE 10000mAh Rugged Power Bank Portable Charger measures up to the task.
Consumer Experiences
Here we have compiled some comments and feedback from people who have bought the [Upgrade] OUTXE 10000mAh Rugged Power Bank with Flashlight IP67 Waterproof Solar Portable Charger Outdoor Dual USB.
In general customers are very pleased with their purchase and can find little to complain about.
"I liked it so much I ordered a second unit. Great for camping or when you're out doors!"
♦
"I have used several of OUTXE's solar power chargers and this is one is by far the best! Does a great job charging and also charges much faster. This product has been wonderful as I able to successfully charge my phone for several days off one full charge to the unit."
♦
" I spend a good deal of time in the outdoors using my phone for gps etc and this has held up nicely. Recharge time is extremely quick. A tip: charge the bank at home then use the solar panel to maintain; charging on solar alone can be lengthy. Highly recommended."
See the 50000mah Solar Power Bank With Dual LED 2 USB Battery Charger – Waterproof. Black with Green Edge Detail – Check Price at Amazon

How to Use the charger power pack
The OUTXE solar charger manual that comes in the box is clear, but here are the main points:
Charging the pack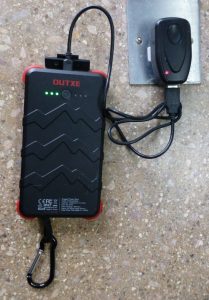 Charging the pack is easy and the charging cable is supplied.
The input is the micro USB fitting in the center of the three sockets.
You will need a wall socket DC 5V 0.5 ~ 3A charger.
A 5v under 2A charger will do, but will take longer to fully charge.
The power bank should be kept out of the sun while charging so if a sunny window is nearby, the charger should be moved to a shady spot to avoid damage.
The battery is fully charged when all the indicator LEDs are lit. They should switch off automatically after a minute or so.
The usb ports lid is a snug fit and should be put back in place after charging to keep it water and dust proof.
Notes: The pack does not support Qi wireless charging or quick charge, but the 20000mAh upgraded power bank will support quick charge (QC 2.0 or 3.0).
Outxe has stated that the power pack cannot be charged in a car using car power outlet.
Possible reasons are:
a) It can get too hot inside a car – Overheating can damage the unit.
b) If you use an inverter it may take too much power and flatten your car battery.
Whatever the reason, Do not charge the pack in the car.
Solar Charging.
The solar panel charges the main battery whenever there is sunlight available.
This is very simple – just put it in the sunlight for solar charging.
You don't have to start or stop it, it just trickle charges according to the brightness of the sunlight.
When it is charging, the last indicator shows RED. It usually takes at least 35 hours to give a full charge so can only be relied upon for top-up.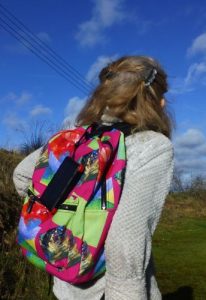 You can easily hang it on your backpack with the carabiner for charging on the go.
When I go out, I have mine on the outside of my backpack and it is charged all the time. The rate of charge varies with the weather but even in the winter sun, it works.
However I do not rely on solar as my primary recharge source.
Trickle charging is good for batteries in general so when not in use, I leave the unit in front of a window for days, to catch the afternoon sun whenever it comes out. I would NOT leave it there in hot weather unless there is a cool breeze.
Note: If it does not seem charge at all on solar, be sure to test it in bright sunshine. If you still believe it is not working, it may be faulty. Do contact Outxe and ask for help, they are very responsive and hold to their guarantee.
Charging Your Devices
This power bank has two output charging ports (5V 3A in total)
You can charge two items at the same time using the USB cable that comes with your Phone/other gadget.
I prefer to use a compact camera to take photos in the field and have been able to charge my camera using one port while connecting the phone on the other.
Out of the Box
The unit comes ready to go but it is assumed you have your own mains usb charger and a usb cable for gadgets because they vary so much:
OUTXE Savage 10000mAh Rugged Power Bank with Solar Panel
Micro USB charging cable (for charging the power pack)
Carabiner
Lanyards
User manual (easy to understand, and it is a good idea to read their notes)
Manufacturer
OUTXE is a limited company based in Hong Kong.
The company has built a reputation for very good customer service.
Many of their customers buy more of their products and have mentioned speedy replacement if products are faulty or suffer accidental damage when they are designed to be protected from dropping.
Accessories or extras to consider
Spare Carabinas – I misplace mine a lot, I like to have spares.
AC Power Adapter Wall Charger 5V up to 3A , so that the pack can be charged at the fastest rate. (This is a Mains charger with USB – plugs in to a wall socket) 

You can use your phone charger to charge the pack, but it may have a lower rating than 3A and take longer to charge.
Compatibility
– Apple devices (iPhone, iPad, iPod)
– Most 5V USB devices (Samsung Galaxy, Huawei, LG, HTC, Sony and more)
– Other Devices (Bluetooth speaker, cameras, GoPro, Kindle and more)
Specifications
Capacity: 10000mAh (10Ah*3.7V=37Wh)
Battery Type: Li-polymer Rechargeable Battery
Input: DC 5V 2A
Output : DC 5V 3A; Each Port: 5V 2.4A(max)
Solar Charging: 1.8W (max)
Dimensions: 151×81×21mm / 5.9×3.4×0.8in
Weight: 328g/ 11.6oz
There are conflicting measurements given on different sites, small differences.
Product Dimensions:
Mine measures: 5.47*2.95*0.79in (15.6 x 8.6 x 2.1 cm) includes the red protective corners
Product Weight: 9.21oz (299 g)
Package weight: 11.99oz (413 g)
For comparison, the Details of the larger 20000 mAh version are:
Dimensions: 6.7×3.4×1.2 in / 170×86×30 mm
Weight: 18.5 oz / 525g
I was unable to ascertain whether these are packaged dimensions.
Features
These are the features as described by the manufacturer
Perfect for Outdoor Trips: IP67 Certified Waterproof, Dust-proof and Shock-Resistant, Non-slip. Simply hang it on your backpack using the carabiner. Stay hands-free while on the go
Solar Powered Charger: Environmentally friendly, efficient solar panel provides you with reliable access to emergency charging power while outdoors, get you out of a jam
Built to Last: Military-grade construction and inner reinforcements, covered in rubber material, tested to endure the rigors of the outdoor trips. Easily resists drops and bumps on rocks while outdoors, dependable in all outdoor conditions
10000mAh Huge Capacity: Holds plenty of charges, enough to charge an iPhone 8 3.5 times or a Galaxy S8 2 times. Never worry about running out of batteries
Durable& Safe: Premium battery cells and sophisticated smart ICs. Multiple circuit protection prevents short circuits, overheating, over-discharging and over-charging. Certified by CE, FCC, and RoHS.
Bright LED Flashlight
3 light Modes (Normal /Weak/SOS). Works perfectly in darkness; ideal for emergencies.
Pros
Can recharge a high-end phone 2 times, some phones more
Tough casing and quality components
Water and Dustproof
Portable and small – fits in a pocket
Simple to use
Value for money
Cons
Long solar charging time.
Hardly surprising due to the limited panel size and conversion rate, and the company emphasizes that is only for emergencies.
The only manufacturing faults reported (that I discovered) related to Solar panels and the customers received replacements from Outxe.
Consumer Ratings
The average rating is 4.8 stars. This includes low ratings for faults that were responded to and solved by the manufacturer. I take ratings from several suppliers' websites
Price/Value
While reading the hundreds of reviews and questions about several models of power bank solar chargers by Outxe, it became evident that the experiences and degree of satisfaction of users was high, and that many were repeat customers.
While no product is likely to be perfect for every user, I believe this 10000mAh power bank solar charger by Outxe offers good value for money and I am happy to award 5 stars.
In Conclusion
A way to keep your phone or tablet charged has become a modern essential.
There are so many power banks available and many may be suitable for outdoor use so a decision can take forever. In writing this review I hope to save you some time so I focused on finding a brand that listens to their customers and updates their products according to customer's needs, and sells products of the highest quality at reasonable prices.
Should you purchase this one? Not necessarily, but this one, or one of the Outxe company's latest models is a pretty safe bet. Check Price of latest at Amazon
The OUTXE Solar Charger IP67 Waterproof Power Bank is tough, easy to carry and when used following the manufacturer's recommendations, it is a reliable source of power outdoors.
If you found my review useful, please, do feel free to share. You can use the long image for Pinterest or use the share buttons.
Disclaimer
I received a free Upgrade Rugged Power Bank 10000mAh for review. I liked it so much that I bought a second one for my walking partner and my artist friend has bought one too, having tested mine for a week at my request.
I was asked for my honest input and fully expected to find fault but had a hard time finding anything wrong with it. I now use  the Rugged Power Bank  Solar 10000mAh all the time.