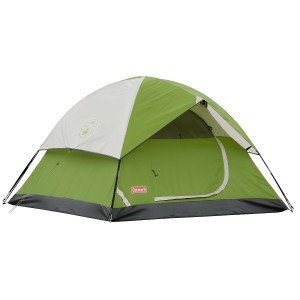 The easy set-up of this 3 person dome tent makes it a favorite for beginners and seasoned campers alike whether touring with a car or travelling solo. That said, there are some things you should consider so that you can decide whether this is the right tent for you.
Size
When deciding what size tent to get you need to ask yourself 'How Much Space do You Need?'
Check Price at Amazon for Coleman Sundome 3-Person Tent

2020 UPDATE
I wrote this six years ago and I like to check details from time to time and adjust the review where necessary.   Coleman has kept up the good build quality of their products and, despite nearly every size being more comforatable for one less person than stated, this tent has remained a favorite and is as popular in 2020 as ever.
Although roomy enough for three people to sleep, if you are carrying all your gear without the added storage space of a vehicle it may be a tight fit. A queen sized airbed just fits inside with a small amount of space – about 1 foot (30cm) – at the sides for gear so it becomes very tight for three grown people.  If you want to use a double layer air mattress your headroom will be reduced and it's advisable to keep it away from the sides to avoid touching the sloping walls. You might find it easier to inflate a queen size bed once it is inside.
In common with many tents, one less person than the full capacity is more practical if you need to keep all your gear with you.
Several users have stated that it was fine for a couple and a child (or a large dog!) and many stated that it is ideal for two and would be cramped with three, so the comfort depends on the size of the 3 people concerned and how much of your personal belongings you need to store within the tent.
Standing room only?
Tall people will be happy to know that the headroom at 52 inches in the center is more than most 3 person tents, and you can stand upright making changing clothes more comfortable. If you mostly just use it to sleep this is not much of an issue anyway.
There are some nice touches too, such as the 'gear loft' for stowing smaller personal belongings off the floor and an electrical access port. This allows the entry of a power cable without hindering the doorway or windows, should you need it. Your light can be hung from the ceiling, out of the way and giving the maximum light to the interior.
Season – What's the Weather Like?
It's important to think about your preferred seasons to go camping and the weather you might encounter. You need to know if the tent is good for wind and rain, winter cold or summer heat as well as what can creep in to disturb your slumber. A night fending off voracious bugs can spoil your fun for the whole day. Let's dive in and examine these in detail.
Wind and Rain
In general, dome tents are fairly wind resistant and this one has stood up to some rough storms. It certainly repels dew and light rain. As well as covering the central roof mesh, the rain-fly shelters the door and rear window so that the rain is steered away.
The tent happily repels light rain and can withstand a heavy downpour, though you must ensure you fully close all the zippers.  Though many have stated that it is water proof, even in rough storms, some users have reported a small leak at the corners or at the seam with the floor, so this experience appears to be somewhat variable.
As a cautionary measure it's a good idea to treat the seams with a sealer from new – I would err on the safe side and apply a seal before setting out if the forecast is unsettled.
Ventilation
Multiple adjustable ventilation points help to keep condensation to a minimum although it is advisable to keep bedding from touching the walls of the tent when humidity is high.
Floor
The polyethylene floor is welded to the walls and turns up so that the seams are above ground level, about 6″. The doorway has an extra rise to help prevent the rain from coming in.
Check Price at Amazon for Coleman Sundome 3-Person Tent

Temperature
It is not warm, but with a good sleeping bag and extra clothing it will give reasonable protection down to temperatures of around 30 degrees F (about 1 deg C) so if you are counting on camping in winter conditions you might want to look at buying a 4 season tent.
This tent comes into its own in warm weather. It has good adjustable ventilation allowing plenty of air flow and reducing condensation. Keep everything zipped up and the mesh is fine enough to keep out the gnats and bugs. One very nice feature is that if you want to see the sky you can leave the rain fly off and star-gaze to your heart's content!
Weight
Weighing in at a little over 8 pounds the tent is light enough to carry on a shorter hiking expedition, on the carrier of a bicycle or for camping with a motorcycle. It's not really a back-packing tent for anything over a few miles from base, although a pair of strong walkers who like a roomy space for an evening on a mountain side it could well be worth the effort.
Carrying your Tent
It comes with a carry bag and separate storage bags for the fabric, poles and stakes so the load can be split between two people. The poles are in sections of 22 inches and will pack with the metal stakes into their own bag.
If you are flying to your camping destination it is useful to know that the whole tent will fit into the carrying case which is around 24″ long by 6″ square.
Is it Easy to Set Up the Tent? How many People do You Need?
Pitching this tent is very easy. The instructions are sewn into the tent bag so that they are always available. Although these instructions recommend two people to assemble the tent, it can be done by one person in most conditions and if you need a little help, because of the wind maybe, even a small child can be instructed to 'hold the other end' or some stones can be used to hold the fabric down temporarily.
It will help the process if you close the door and window zippers while putting the tent up as it will provide an even tension all over.
There are two fiberglass poles to push through sleeves and they slide very easily. Once the peg rings are attached at one end, popping over to the opposite side to fix the other end will hold it in place while you secure the tent rings with stakes in the ground.
To complete the set up the rain fly is strapped to the upper pole and rests on top secured to the four tent peg rings. These tent rings are secured with stakes in the ground.
It is always advisable to have a 'dry run' at home if you can, so that any mistakes are ironed out in your own time rather than racing against an oncoming storm…
And what about taking the tent down?
It's always harder to pack up a tent than to put one up, we find. Be prepared for this as it really is quite normal.
Dismantling the tent is not difficult, but it takes a bit of practice to fit it back into its carry case. It is advised by Coleman, the manufacturer, to keep the pole sections and stakes separate from the fabric of the tent in their own storage bag to avoid accidental tearing or damage. Spread the fly sheet inside the tent before you start. The trick is to fold the tent to fit the width of the carry bag before rolling it tightly around the bag containing the poles and stakes.
If you are putting the tent away until the next season or for a longer period and if you have the space, it is best to leave it spread out somewhere.  In any case it must be clean and thoroughly dry before storing away.
Ease of Set up – Consumer Reviews
The claim of pitching this tent in ten minutes is supported by users and some have beaten this time.
Other Uses or Camping Situations for Your Tent
The stakes that come with the tent are metal, but are not strong enough for beach camping on sand in windy conditions.  Longer and thicker stakes may be required.
This 3-person tent is ideal for two people who are motorcycle camping, or on a cycling tour where you will want to store your pack inside. In this situation you will need some space for your gear and this tent would serve the purpose better than a similar 2-person tent.
Have you thought about putting up a tent indoors for the kids' sleepover? This tent will stand without pegs and provide hours of fun. They can watch the TV through the doorway and fall asleep where they are. The ease with which one person can pitch the tent makes it a good choice too for a father and son weekend escape into nature too.
Durability and Quality
This tent is well made with quality materials in relation to its price.
The zippers are strong, water proof and glide well (Update: There have been some complaints in recent years that they fail). The poles are made of fiberglass and stand up to fairly strong winds as does the polyester and mesh fabric.
This is not a high end product but it is a sturdy little tent, suitable for a wide variety of camping adventures that don't involve extremes of weather – in extreme cold you need to be equipped with plenty of supplementary warm gear.
The stakes that come with the tent are adequate for the situations for which it is designed, but there are some extra places where the tent will be perfectly good with the addition of stronger and longer pegs, such as on the beach.
The polyester fabric provides privacy without compromising on interior daytime light, although the light fabric of the door can feel a bit transparent to a few users.
If you take good care of it and do some preventative work each year, such as using a seam sealer, it can last through several years of use, according to users.
Check Price at Amazon for Coleman Sundome 3-Person Tent

Out of the box
The tent comes with everything necessary to set it up. The included stakes are metal and no cord is required as the stakes go through loops attached to tent. The carry bag and inner storage bags are included in the price.
Manufacturer
Coleman is a well-known traditional manufacturer with roots in finding products to make life easier in difficult or harsh conditions. The principles remain today and their product line focuses on making products that increase the pleasure of outdoor life, solve practical problems and are value for money. Their influence has affected the life of campers for generations.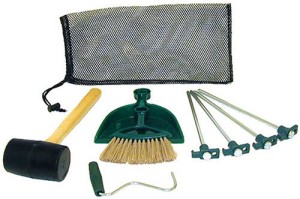 Accessories Included or to Consider
Each tent comes with a one year Warranty.
A spares kit is available as well a repair kit. Single spare parts can be obtained from Coleman at the time of writing, including replacement poles and tent stakes. If longer or stronger stakes are required they can be obtained from other manufacturers.
Although the tent has an integrated floor, a tarpaulin to go on the ground beneath may be beneficial to keep dirt off the underside and provide more protection from punctures etc. but is not a requirement.
Specifications: Coleman Sundome 3-Person Tent
•    Type: 3 person tent
•    Design: Dome
•    Dimensions: 7 by 7 feet (84 x84 inches) (213cm)
•    Center Height: 52 inches (132cm)
•    Weight (approx): 8.4 pounds (3.8kg)
•    Primary Colors: Green, White
•    Doors: 1
•    Flysheet: Polyester taffeta 75 denier flysheet
•    Tent Material: Polyester mesh 75D inner tent
•    Floor: Polyethylene
•    Warranty: Limited 1 year warranty
•    Poles: 8.5mm fiberglass
•    Country of Origin: China
•    Model No.:     2000007828
Features
•    WeatherTec™ System Keeps you dry Guaranteed™
•    Spacious interior, room to move
•    Dome design for quick setup, 10 minutes
•    Snag-free, continuous pole sleeves for easy setup
•    Rainfly awning for shade and rain protection
•    Large windows help cool the tent
•    Storage pockets keep gear organized
•    WeatherTec™ System—patented welded floors and inverted seams keep water out
•    Insta-Clip™ Pole Attachments stand up to wind
•    7 ft. x 7 ft. (2.13 m x 2.13 m), fits three people or one queen airbed
•    4 ft. 4 in. (1.32 m) height, room to move
•    Limited 1 year warranty
Pros:
•    Sturdy construction
•    Easy to pitch
•    Lightweight
•    Well ventilated
•    Wind resistant
•    Standing room
•    Rain fly keeps rain out at the door and windows
Cons:
•    A tight fit for 3 adults with gear
•    May need seam sealer to ensure it is waterproof.
•    Some situations require longer stakes than those supplied
Points Mentioned in Consumer Reviews
The amount of space is frequently mentioned, with opinion divided about the tent's suitability for 3 people depending on the expectations of the users. Several have been enthusiastic about using it with only two, enjoying the good storage space whereas others have had no problem sleeping 3.
There were fewer reports of leakage compared with the number stating that the Coleman Sundome 3-Person Tent held up through rough and rainy weather.
I did not come across a consumer review that complained about the ease of set-up, on the contrary there were many who said it is very easy to pitch this tent.
Consumer Ratings for the Coleman Sundome 3-Person Tent
A rating of between 4 to 5 out of 5 stars is common amongst users and speaks well for the qualities of this tent.
Price : Coleman Sundome 3-Person Tent
This tent is made to offer a basic solution for a variety of camping adventures. The quality is good and it has everything needed for a weekend away. The Coleman Sundome 3-Person Tent is good value for the money.
Check Price at Amazon for Coleman Sundome 3-Person Tent