The balance between living space and carrying weight can be hard to get right for backpackers and the Kelty Trail Ridge 3 tent could be the solution in this price range.
Other features of this tent may entice you or put you off entirely, so while thinking about your own needs you might find the details gathered in this review helpful.
Check Price for the Kelty Trail Ridge tent at Amazon
Size and Comfort
One thing that is special about this tent is that there are two good sized doors making access more convenient – less scrambling over one another to get out. The fly also creates two vestibules for gear storage protected from the weather.
The basic design is a dome tent, but the interior space is improved by the clever use of the third pole that pulls the walls into a more vertical position making better headroom around the edge. This means more of the floor space can be used effectively.
In the course of my research into 3 man tents, there is a common view that in general they are suitable for two people, at most, to camp in relative comfort with all their gear under shelter.
With that in mind it was refreshing to find some users who had actually camped with three in this tent!
More than one reviewer at rei.com stated that it doesn't leave room to spare but it is not cramped. You can sleep head to toe with the heads at the doors making it easy to exit without too much disturbance, though it might be necessary for taller people to sleep in the other direction, making it a bit tighter.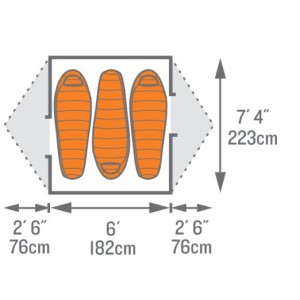 The one in the middle would then have to climb over one person to get out. I think it's evident that it would not be ideal for three big tall guys, but a couple with a child would be fine. The much loved dog is another candidate for the middle slot.
For those who are seeking a lightweight tent with comfortable space for two, my extensive reading of reviews indicates that this tent is a much-liked solution. Each person has their own exit and sheltered vestibule for wet footwear and pack.
There is a side pocket each and a tie-on gear loft above to keep 'bitty' belongings off the floor area. One thing that niggled a bit for me was the two pockets – it wouldn't hurt to have one in each corner to give the choice of sleeping 'head to head' with a pocket next to you, would it? They would hardly add to the weight. Not a serious set back, but it smacks of lack of thought about the variety of people who might use the Kelty Trail Ridge 3.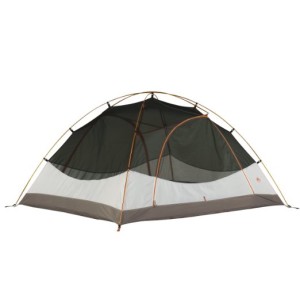 There's plenty of air circulation for a comfortable sleep due to the mesh walls and adjustable vents in the full cover fly. There were a few complaints on the effectiveness and of the fly vents among the reviews and comments I found for this tent, but one end of the fly can be rolled up for a cross breeze in Summer.
For those who enjoy 'pleine air' sleeping, the full mesh canopy affords a view of the sky, though privacy is naturally compromised. It is intended primarily as a backpacking tent and, in the right spot you can make the most of the outdoor experience.
Oh, and I nearly forgot to say – the mesh keeps out the bugs – even those no-see-ums! Very effective…
Season and Weather
This is a strong wind-resistant 3 season tent.
I spent a long time reading reviews at Amazon, several other supplier sites and backpackers' blogs and the consensus of opinion confirmed the claims that this tent is waterproof and is resistant to strong winds. There were stories of being the only tent standing after a storm and of staying completely dry in torrential downpours.
The rainfly covers the whole tent, almost to the ground. The fly seams and floor seams are tape sealed for effective water-proofing. The footprint can be bought as an extra and affords a dry area for the vestibules.
Interestingly, I didn't come across the usual warnings to spray seal the tent on arrival common amongst reviewers. This could be a matter of 'numbers' – there are not as many reviews as is common among older models – but it could be because the seam sealing inspires confidence in the performance of the tent in adverse weather. It should be noted, however, that Kelty themselves recommend sealing in their user manual as an extra precaution.
Floor
The ArcEdge™ tub style floor stays taut and prevents seepage at ground level. Although the material is strong, it is quite thin. It is advisable to use a ground sheet or the optional footprint to extend the protection from sharp stones and twigs.
Weight
With a minimum weight of 5 lb 12 oz  (2.61 kg) this tent is considerably lighter than other tents in its class making it a better choice for those who really want to get away from it all and walk daily to their night time destination.
It packs up in the supplied stuffsack at about 7 x 24 inches with a weight of 6 lb 5 oz (2.86 kg), easily fitting on an outer backpack strap together with a sleeping bag or pad.
It is made for three, and quite spacious so is heavier than a two-man tent, but even if you want to use it for two it is easily maneagable for most. When used for two, the extra comfort afforded by the added space means it is considered by many to be worth any extra effort.
If you are anticipating air travel with this tent, the light weight and neat package will be an advantage
Ease of Set Up
Pitching this tent is very easy, even the first time. The tent is attached to the DAC pressfit poles with clips and no threading is required. Colour coding of the straps and clips makes it easy to assemble quickly and correctly.
The fly is attached with easy-to-use and secure side-release buckles and then guyed out as needed.
The speed and ease of setting up this tent is mentioned in many comments about the tent. It's a simple system that is easy to understand, and can easily be done by one person.

 Video About This Tent
Dismantling the tent.
Breaking camp is pain free. It is quick and easy to take this tent down, and everything fits comfortably into the supplied stuff sack. If you choose to get the optional footprint, I understand that will fit in the same pack also.
Durability and Quality
The Kelty tent is well made with tough materials. You can happily set up camp and know that you will be dry and secure in the tough little Kelty tent.
The fabric and the zippers have a quality feel about them that sets them apart. The fabric is thinner than others but also tougher. The Kelty trail ridge range of tents are made to last. They won't fall apart after one rainy night or rough weekend hike.
DAC pressfit Poles are made of aluminum giving a high strength-to-weight ratio, are long lasting, and are durable to handle harsh weather.  The pressfit is a system that uses a ferrule that is pressed in with a precise interference fit to hold it in place. These poles will be strong and reliable for a long time with no slippage or corrosion.
Shop Kelty Now and Check Price at Amazon
Camping Situations for Your Tent (Best Uses)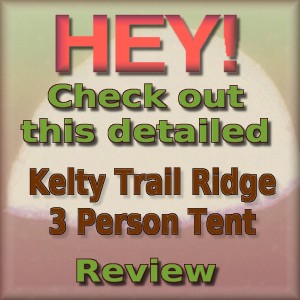 The light weight of the tent doesn't mean it can only be used by backpackers, it could be a good choice for cyclists too, and if you just don't like carrying stuff, it's also fine for car camping.
This can hardly be called a family tent for all situations, but if you are keen hikers or backpackers and want to take your youngster with you, the person lumbered with carrying the tent won't be over burdened on the hike, and you won't be too squashed up when you go to bed.
Sometimes you have to travel on a train or plane to reach your destination and weight or bulk could be important. This tent packs up neatly and fits into smaller spaces without a problem.
When you arrive at the camp site it's sometimes hard to spot the best positioning and the freestanding design is easy to move around to choose the ideal placement.
If you are a casual backpacker and can't justify spending a lot on an ultra lightweight backpacking tent this could be an effective and affordable alternative.
If weight is of paramount importance and you are only one, you might like to look at the Kelty – Trail Ridge 2 – 2 Person Tent with a packed weight of 5lb 8oz (2.49 kg).
For those car campers who prefer to have more height and for whom weight is not an issue, it might be worth taking a look at this review of the Coleman Sundome 3.
Consumer Experiences
The dominant impression I had was of confidence in the tent with little need to dwell on plans for failure, and a great deal of delight in being dry and comfortable.
People were often sharing the places they'd been and the fun they had. They had been to national parks, on cycling trips, taken it on their ATV into the hills and even gone Kayaking with one of these tents.  Some were couples, with and without dogs or a child, others were students camping together and some lone campers are among those who take the rouble to write about their experiences.
None of the users expected to use this tent in the deep winter or for mountain camping. Many were people who enjoyed wild places and were able to carry some weight.
Of course, I did find some gripes, and some were about picking the wrong tent for the purpose, so it's definitely a good idea to make sure that your expectations match the features of the tent you choose.
The fly vents have a small plastic rod sewn into the hem which provides stiffness to keep the vent open. It collapses easily, but the tent has so much ventilation that I'm not sure the vents add much. However I mention it here because I read it.
Color was mentioned too – the white color of the fly is not always liked.
This tent is an affordable solution for those who need good protection from the elements for three seasons in the year.
Out of the box
The Kelty Trail Ridge 3 tent comes with stuff sacks and stakes and the tie-on gear loft is included.
The tent consists of a mesh inner tent and a full rainfly.
The lifetime warranty is hard to beat.
Manufacturer
Kelty has been in business for over 60 years making easy to use, affordable, reliable gear for all kinds of conditions. They have a very good reputation for the manufacture of quality camping equipment and for great customer service.
You can read more about them here.
Accessories to Consider
An optional footprint (sold separately) can further protect the Kelty Trail Ridge 3 against ground water, roots and rocks. Some users think the foot print should be supplied with the tent – they consider it necessary.
The Kelty custom footprint is a good fit being sized just smaller than the extent of the rain fly. Some users bought a tarp and cut it to size 🙂
Stronger stakes may be used in some circumstances, but bear in mind the added weight of around 1.3 pounds.
You would subtract the supplied stakes – I don't know their weight I'm afraid.  Perhaps if you have some you could tell us via the comment box below. It would be good to know whether you found the supplied stakes adequate or not, and in what circumstance they were used.
You can check out some heavier stakes in the link.  I hope to check out different stakes in a later article for you.
Check Price for a MSR GroundHog Stake Kit at Amazon
Specifications
The tent is referred to in the following terms, depending on where you look!
Kelty Trail Ridge 3 3-Season Backpacking Tent
Kelty – Trail Ridge 3 – 3 Person Tent
Recommended Use:     3-Season Backpacking
Packed Size:     7″ x 24″
Sleeping Capacity:     3
Average Min Weight:     5 lbs 12 oz
Average Packed Weight:     6 lbs 5 oz
Interior Height:     47″
Floor Area:     44 sq ft
Floor Dimensions:     88″ x 72″
Vestibule Area:     9 sq ft + 9 sq ft (two vestibules)
Doors:     2
Pole Type:     DAC Press-Fit
Number of Poles:     3
Freestanding:     Yes
Clips or Sleeves:     Clips
Interior Storage:     Internal Storage Pockets and Gear Loft
Material:     Walls: 68D Polyester
Floor: 68D Polyester 1800mm
Fly: 75D Polyester 1800mm
Seam Sealed:     Taped Seams
Seasons:     3
Other:     Stuff Sack and Gear Loft Included
Warranty:     Lifetime
Dimensions:
Minimum weight: 5 lb 12 oz / 2.61 kg
Packaged weight: 6 lb 5 oz / 2.86 kg
Floor area: 44 ft2 / 4.09 m2
Vestibule area: 9 ft2 + 9 ft2 / .84 m2 + .84 m2
Length: 88 in / 224 cm
Width: 72 in / 183 cm
Height: 47 in / 119 cm
Packed diameter: 7 in / 17.78 cm
Packed Length: 24 in / 60.96 cm
Key Features
Free standing design
Color coded clip construction
Taped floor seams
Gear-loft included
ArcEdge floor
Mesh wall panels
Internal storage pockets
Noiseless zipper pulls
Fly vents
Side-release buckle tent/fly connection
Guyout points
Two doors; two vestibules
3 DAC Press-fit poles
Pros
Comfortable – plenty of room
Easy To Set Up
Fly Works Well
Sturdy
Waterproof
Lightweight
Cons
Thin floor
Colors of the fly.
Foot print not supplied with the tent – considered necessary.
Points Mentioned in Consumer Reviews and Consumer Ratings
Some of the points that lowered the ratings on this tent were the thin floor and the stakes not being the heaviest duty. Others were not overly impressed with the tie-on gear loft – they found it hard to get just right and the lack of buckles on the stuff sack was an issue for some.
The spacious interior exceeded expectations for many, in particular those who are familiar with tent sizes.
Looking at consumer ratings at several supplier websites there were more 5 star ratings than 4 star and very few below that.
Price/Value
This tent is lighter than some of the cheaper tents of this size and there are more expensive lighter-weight tents for 3 people, but this one provides decent shelter and durability, together with easy carrying and set up without spending an arm and a leg.  You can use it with confidence in different situations so I think The Kelty Trail Ridge 3 is good value for money.
For current pricing information, follow this link:
Kelty Trail Ridge Tent, Check Price at Amazon
Save