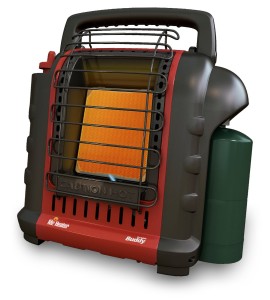 Do you need to heat your tent? If you must go camping in the depths of winter you might be glad of some extra warmth.
Update with more choices for 2020.
This portable heater can be used in a large tent that won't warm up with body heat, to make getting up in the morning more comfortable. Some one has to leap out and turn it on, so just snuggle up a little longer before making the morning brew!
This is a also great room heater and can make life much more comfortable in an emergency. It has several safety features, including an oxygen sensor among its multiple failsafe operations.
Keep Warm and get one Now, Check the Price at Amazon

The heater is light in weight, about 9.5 lbs so not too great a burden for car campers.
The stove will turn off if the oxygen levels becomes low or if it turns over.
Turning on the heater is easy if you follow the instructions, and have the patience to wait 30 seconds once the pilot lite goes on before moving the dial to the low setting. It's also a good idea to wait a minute to make sure it does not go out.
Disposable LP cans can be expensive, but used sparingly to get rid of the chill on a very cold day or in the evening, it can be well worth using some fuel.
It does emit fumes when new, but only for the first few minutes of use. When starting with a brand new unit you can give it test run in the open air until it no longer produces any fumes or odor.
Some people like to also get a carbon monoxide detector to put in a closed room to be doubly sure.
This is the description for this heater
Mr. Heater offers the latest evolution in portable heating with the Portable Buddy Propane Heater. Use it in garages, tents, workshops, cabins, porches, patios, or hunting blinds to heat up to 200 sq. ft. Equipped with a low-oxygen shut-off pilot system and accidental tip-over shutoff for indoor safety and features low/high heat settings of 4,000 and 9,000 BTU/hr. allowing you to control comfort level. Accidental tip-over safety shutoff. Lightweight, easy to carry. Heats up to 200 sq. ft..Connects directly to a 20 lb. propane cylinder with optional hose (propane not included).Low/High heat settings of 4,000 and 9,000 BTU/hr..Size: L 14.25″ x W 9″ x H 14.25″.
Dimensions: 16 x 10 x 15 inches ; 9 pounds
A Customer Review
I included this quote in my heater review because it also mentions some good safety tips to think about when camping. Incidentally, he gave this heater 5 Stars!
"My wife and I go camping in the Sierras and San Bernadinos in California, where it can get cold at night–40s and 30s. She hates going to sleep in a cold tent, so I got one of these to heat our tent. Obvious common-sense precautions apply – keep away from the tent sides and anything else flammable, but with that in mind, it works great! Easy to start (took a little practice to get the hang of it), and it will last four hours on a 1 lb. propane can. I hook mine up to a 10 lb. propane tank, using an accessory hose sold by the manufacturer.
Two things about using an external tank: First, the tank should be placed outside the tent. Second, most hoses require a fuel filter, since they leech contaminants that can damage the heater. That's a safety issue, so get a filter from the manufacturer unless the accessory hose clearly states that it doesn't require one. My 10 lb. tank runs the heater for several nights.
The unit is small enough to throw in the back of truck with the rest of the camping gear, and it takes only a minute to set up. If you are concerned about CO2, pick up a small, battery operated CO2 monitor. I can recommend this unit without reservation."
It is not a good idea to leave the heater on all night because there is no ultra-low setting for background heat and the heat rises vertically with no system for distributing heat around the room, so a bit of planning is advised.
Safety documents are provided for download at Amazon and it is worth reading the warnings so that you get the right one for your Purpose and Location.
A Smaller Version for Extra Portability
Mr. Heater F215100 MH4B Little Buddy
This is the Little Buddy which is Recommended for emergency heat for  tents and campers, as well as for workshops, job sites, porches, patios, decks, garages, storage buildings, picnics, tailgate parties, construction trailers, sporting events, barns, sheds, hunting blinds, shelters and ice fishing shanties .
Weighing in at about 6lbs – this might be the one you prefer. I have not looked closely at the reviews and it does look a bit top-heavy to me, but it does have a fail-safe tip-over switch that turns if off. It is Not meant for motorised vehicles like golf caddys.
Specifications for Model No: MH9BX – Portable Buddy
Note: Different models are required for California and Canada due to local regulations.
*New* Fold-Down Handle for compact storage
*New* Swivel Out Regulator for easy fuel connection
Designed and approved for emergency indoor & outdoor use
Automatic low oxygen shutoff system
Accidental tip-over safety shutoff
Lightweight, easy to carry
Heats up to 200 sq. ft.
Connects directly to a 20 lb. cylinder with optional hose
CSA certified
Below is a link for the MH9BX-Massachusetts/Canada approved version on Amazon
Save