The Wenzel Klondike is a good family basecamp tent that has been around for some years. The tent has a full mesh roof, a removable fly and an attached screen room. With plenty of space and room to stand up inside, a family of four to six people could have a great time in this two-room tent.
The screen room in front has a floor, can be used as a bug-free eating area, a sun room or as a second sleeping area if needed as the panels can be zip-closed for privacy.
Updated Colours in 2020: Light Grey/Taupe/ and  Light Grey/Blue.
Check the Price for Your Wenzel Klondike Tent at Amazon
My review of this cabin dome tent has all the details, and shows both 'for' and 'against' reasons  for buying it, to help you with choosing the right tent for camping with the family.
UPDATE 2020
Still Very Popular After Many Years
This tent was already well liked by people with families when I first researched it in 2014 and it is till getting 5 Star reviews in January 2020!
People do have minor niggly complaints, but most admit they 'did not know' something about a feature before they bought it. It goes to show how important it is to know exactly what a product has to offer so that you can choose the one that suits you best.
Wenzel make family tents in several sizes, colors and specifications so the prices may differ according to your choice. The one I examine here is for 8 people but they make similar tents for 7 or 9 people.
Size and Comfort
There are two rooms in this tent. The larger room is formed by the dome and the smaller one is an added extension with all mesh walls with panels that can be closed.
Headroom
There's plenty of space in the main room for all but the very tall to stand and move about without bending over – a 5′ 8″ man stands easily in there – and the screen room is high enough for the shorter among us – a person of about 5'2 is clear of the roof. The tent curves down at the edges to around 5 feet in height.
Sleeping arrangements
As ever, the ability to sleep up to eight people in this tent is somewhat misleading – well it does mean 'sleeping only' for eight. You would be very cozy indeed if you squashed that many in, and there would be little floor space left.
However, a family of four would be very comfortable in it, and depending on the size of the kids, you might get away with 6 alright.
Two queen mattresses fit in the main area with space in the middle, but if you had three twins they would fill it up and there would be a risk of touching the walls. There is space in the screen room for sleeping, and you could use it for that; perhaps for the kids or a dog. For a family of 5 a twin mattress or a cot will be fine at the side leaving a passage to the inner tent. A second twin  would be a bit tight in there.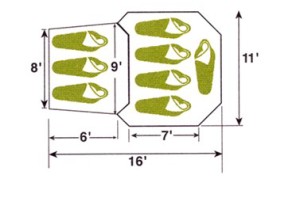 Sorry, in these tent reviews I do keep talking about the kids and the dog in the same breath! I mean nothing demeaning in that. It's just that many people want a separate area for their kids – or for their dog – or both!
The floor plan shows what you can do if everyone sleeps in a sleeping bag on sleeping mats.
Creature Comforts
Most of the people who appear to get the best from this tent and really enjoy the experience are the ones who keep the screen room as storage and as place to sit or eat. It's a real plus when you can have the feel of being out in the open but free of annoying bugs during an evening meal. The no see-um netting means you can have a near all-round view, if there is a prevailing wind you can zip up a panel and you can even enjoy being out, but dry, in a gentle shower.
Another really nice aspect is the full mesh roof option. When the weather is fine you can lie in bed and fall asleep with the stars in your eyes…
Convenience
There is a hook in the roof of the dome for hanging a light. Don't use a light that gets hot!
There is no dedicated power port for extension cords, but the low vent in the back can be used if you don't want a cable coming in the front.
Doors and windows
There is one exterior door which enters into the screen room. The main room at the back does not have an outside door.
The main door is an inverted 'T'. The fabric of the door is attached and the flaps don't have ties but are tucked into pockets at the bottom. The same goes for the side screens and windows. You might find that a bit fiddly or think it doesn't look so nice as a tie.
The round inner door looks good with the design and when closed, makes a full divider between the domed area and the screen room, so making two rooms. The fabric wall it's in lends stability to the dome, but it means there is a threshold of about 5″ to step over. Some elderly people may have difficulty with that. This circular door can unzip and fold completely out of the way for a more open feel.
The main room has a window on each side and there is no window in the back.
The storm fly does not extend over the windows so you have to shut them in the rain.
The zippers work really well and are a nice quality – excellent even.
They call them self repairing – they do recover if the pull gets out of place. You just take them back to the start and zip them up.
You may have to take some care not to catch a bit of loose fabric in the zippers as you close them.
Wenzel Klondike 16 X 11-Feet – 8-Person Family Cabin Dome Tent (Light Grey/Taupe/Blue)
Storage
Two pockets for smaller bits and pieces are near the door in the main part of the tent.
Again, the amount of storage space you have will depend on the number of people. This is a big tent and a smaller family can choose to keep everything out of the sleeping area by using the screen room for storage. It can be closed up if it rains.
Season

This is classed as a 3 season tent, but is particularly suitable for summer camping. Although many have reported coming through storms without mishap, the tent is made of weather-repellent polyester with polyurethane coating and may need treating to be truly waterproof for more severe conditions, or perhaps after a few uses.
The large areas of mesh make the ventilation very good and keep out those bugs in warm weather.
Larger tents tend to be more vulnerable to strong wind – especially cabin design tents. The 'cut-off' corners are designed to add extra anchor points for stability to help address this problem. It is important to stake the tent out properly and some suggest adding extra guy lines if strong winds are anticipated. One user who did this came successfully through a fairly severe storm well.
It can be breezy inside – a plus for warmer weather but you will need plenty of warm bedding and clothing in the cold. This is meant for groups or families; it is a tent to go to campsites and is not meant for deep winter or cold mountain camping.
As mentioned earlier, the fly does not extend over the windows of the tent so that if it rains, the windows will need to be zipped right up to keep the rain out.
Floor
The floor, made of polyethylene and welded to the walls of the tent, extends right through the tent from the front of the screen room into the main sleeping room. This can be kept clear of mud by placing a mat outside the door.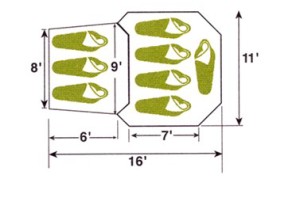 A tarpaulin placed in position under the tent before pitching it will extend the life of the floor, and can be extended at the front door to reduce the ingress of mud.
It's as well to be aware that the floor measurement of 16 x 6.5 feet does not take the cut off corners into account, nor the narrowing toward the front. It refers to the full length by the full width, so you can't just multiply it out to get the floor area.
Weight
This tent weighs 27.3 pounds, which is not difficult to handle when loading into a car or van, but you wouldn't want to carry it a long distance.
Ease of Set Up
It is not complicated to set up this tent and it can be done by two people in 20 minutes once you are familiar with it. The main tent can be set up by one person but it will take a lot longer. You will be running around the tent so it's much better with two, and the rain fly would be a struggle on your own especially if it's windy.
The included instructions are attached to the inside of the storage bag.
*You can read or download the instructions here. It is a .pdf file.
For best results the floor area should flat and be fully staked before attempting to raise the dome.
Some people have ended up with sags or pull lines in the fabric at the sides of the tent  – usually at the first try.
Take the time to position the stakes and support poles carefully making sure the poles are all locked correctly.
If you stake out the whole tent well using all the stakes and making sure that all base tabs are staked down and pulled tight, this will help to achieve a tighter tent which is stable, unlikely to collapse in wind and very attractive.
You tube Wenzel Klondike Family Cabin Dome Tent

Check the Price of this Wenzel Klondike Eight-Person Family Tent at Amazon 
Dismantling, Breaking camp
Users say this tent is quick and easy to break down and fits easily into the storage bag. "A breeze" one said.
Durability and Quality
This family tent is made of high quality materials. It is tough and well constructed.
Although the fabric appears light, many people say they have used the tent for years.
A sturdy tent, though the design with angled corners takes away from the floor space, it does provide double staking.
The stakes that come with the tent may require replacing with stronger or longer ones in some circumstances.
The corners and bottom seam should be sealed to ensure a dry floor.
Camping Situations for Your Tent (Best Uses)
The Wenzel Klondike Family Tent would be great for warm camping in say, Florida, and places like that. The good ventilation through this tent is ideal for warmer weather, and the rainfly can be removed during the day to keep the temperature down if you like, and put back if there is a risk of rain.. a bit of extra work, but worth it sometimes.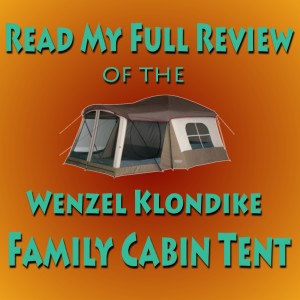 Two adults and three children would be comfortable with plenty of space for bags and gear.
You can sleep 2 adults and 3 kids in the main room but you could sleep 2 more people in the screen porch if needed, so if you have teens who want a little privacy that would be a good solution – bearing in mind you do have to pass through to the door going in and out.
A strong young woman with young kids can pitch the tent with the kids as it is easy and light weight enough to handle.
The screen room is a very useful addition in several situations
Together with its light weight and speedy set-up the extra room makes this a great tent for a pair on an extended fishing trip. The Klondike tent will comfortably handle two large cots and the screen room up front can house all of the extra gear for a stay by a lake.
For those who have dogs, the porch means they can sleep in the tent, but be separated from the owners' beds and clothes and be safely inside. It wouldn't hurt to have a mat to protect the floor from sharp claws.
This is an ideal tent too, for older people who, perhaps don't want a struggle setting up, but want the space and comfort of standing upright inside and somewhere to sit, eat and watch the world go by. A couple can handle it and it's a quick enough set-up to warrant taking it on a weekend break.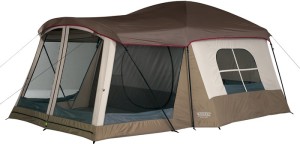 Great fun on a beach camping trip, you can watch the sun go down – or come up – over the ocean. If you swim and want a changing room, just zip up the panels of the screen room for privacy – saves walking sand into the sleeping room.
This is described as an 8 person tent and, although it is possible to fit 8 people sleeping, it is not really realistic for 8 adults, if only because of the single door for entry and exit.
Winter camping would be a challenge in this tent and it is not recommended for that purpose. The very properties that make it so good in the warm render it more than chilly in the cold. You would definitely want some sort of heater, even with good bedding if you are determined to go anywhere below 30.
Update: Having said that, people report that they use theirs a lot in the winter, even in thunderstorms, and they love it! Perhaps they are all geared up with a heater.
Are you one of those mad for the outdoor Types? – You might want to take a look at this heater.  Mr. Heater portable tent heater .  It is the  first Item I added to the Accessories section. (opens in a new tab)
Consumer Experiences
I needed a tent that would comfortably handle two large cots with a room up front to house all of the extra gear for a week's stay on a lake fishing trip. This tent fills the bill.
Queen mattress ( feet towards the door) and baby playpen and still had lots of room.
Sprayed with the hose it didn't leak, just a couple of small leaks so seam seal all the corners.
The front room is perfect for chairs / games / boots, etc. The back room is big enough for two queen blow up mattresses and then still two people in bags at their feet. We had one queen mattress and our daughter slept on her sleeping bag pad. Our friends who came with us piled their two kids in our tent as well (since it was so roomy) and still felt empty.
The large interior and open roof make it tough for two (or three) bodies to heat up. You lose most of your heat through the roof and we were cold despite sleeping bags, air mattress, extra blankets and thermals, and it was only in the low 50s that night.
Also it was fairly easy to set up and once you do it once it's a snap after that. I do recommend that you stake it down first and fyi the yellow stakes are for the rain fly!
Overall it is a good tent with some minor drawbacks. It is a good looking tent and suits my summer camping needs.
Out of the box
The tent comes with the rainfly, stakes and guylines included and a bag for storage with sewn in instructions for set-up.
Extra stakes are advised.
Manufacturer
Wenzel is a long established company and have been in business for over 120 years. Their tents are known for value, quality and their great warranty.
Accessories
Manufacturer warranty of 10 years is included.
Possible extras you might like to get:
A tarp is strongly advised for under the tent – You could use two smaller ones to make up the size. The full footprint is 16 by 11 feet but it narrows toward the front. The main room measures a little over 7′ x 11′ and the screen room is 9′ x 11′ feet.
A stake hammer – don't forget it!
Steel stakes if applicable and some spares
Extra guy rope
An entrance mat, spares, repair kits.
Specifications
Description: The Klondike is made of rugged, weather-repellent Weather Armor polyester with a polyurethane coating for reliability, helping it keep water out and warmth in. The tent also includes double-stitched, lap-felled seams throughout the body, providing a shingle effect against water. Other features include a fiberglass frame, a removable fly, two hanging pockets for easy-access items, and a storage duffel.
    Dimensions:
    Base: 16 by 11 feet
    Center height: 78 inches
    Eave height: 61 inches
    Interior space: 98 square feet + 60-square-foot screened room
    When packed: approx. 3′ x 1′ x 1′ feet – About 12″x12″x27″ long (appears to vary)
    Sleeps: 8 People (5 in Sleeping Room and 3 additional can sleep in Sitting area when closed)
    Door: Inverted T-style, interior flex style
    Windows: Polyester Mesh, 2 EA
    Floor: Welded polyethylene
    Frame: Fiberglass
    Pegs/Stakes: Steel and plastic
    Carrying weight: 27.3 pounds
    Seasons: 3
    Color: Light Grey/Taupe/Red
    Item model number: 36424
    Warranty: 10 years
Features
Removable hooded fly covers tent and screen room creating sleep-able space and weather protection
Full mesh roof option; Mesh screen Room with ZIP-UP walls and 2 Room windows and mesh roof keeps the bugs out and lets the breeze in
Rear Mesh Vent creates ground breeze
Patent pending Power Corners are double-staked and add stability
Includes, Stakes, 2 Hanging pockets, and Storage Duffel bag
Full mesh roof option; double-staked Power corners for stability
Pros
Spacious
Easy set up and breakdown
Standing room
Full mesh roof for hot weather and full mesh screen room
Well ventilated for warm weather camping with good privacy
Sturdy and stable in windy conditions
The ten year warranty is unusually long
Cons
Saggy sides if not properly set up
Screen room headroom is low for taller people.
May need seam sealing for wet weather
No power port – need to use door or ventilation port
Only one inside hook
Consumer Ratings
I examined user ratings from several suppliers and the average is 4.3 overall
Price
This large tent is excellent quality for this price range and the Wenzel Klondike 8 Person Family Cabin Dome Tent represents good value.
Check the Price at Amazon for the Wenzel Klondike 16 X 11-Feet Eight-Person
Family Cabin Dome Tent (Light Grey/Taupe/Blue) 
Save