Before Buying a Tent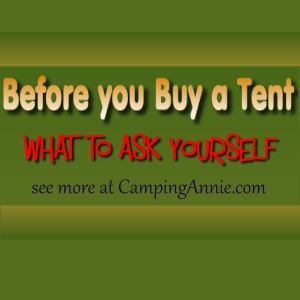 If you want to know the main points to look out for before you buy a tent, then you'll find this article helpful. Here we'll discuss the size of the tent, the seasons you want to go camping, the style of camping you want to do and how to identify value for money. After reading this article, you should be able to narrow down the type of tent you need and what features are important to you.
This is the first step to help you find the right kind of tent for your purpose and choose the best buy.
This handy infographic is here to help you keep the main points in mind. You can jump to the Details discussed below the image by clicking here, if you wish.
Infographic – Before You Buy a Tent

The size of the tent
How many people will sleep in the tent? Tents are usually described by the number of people that fit inside with standard sleeping mats, so you have 1,2,3 person tents and so on.
The time you will spend in the tent will affect your choice too, as this sizing system generally makes no allowance for extra space, so if you want plenty of space for your gear, or to sit and read if it's raining, for example, you would go for the next size up. If you are three friends, then you might choose a 4 person tent.
How you intend to travel will also have some bearing on your choice of tent. Sometimes a close fit for sleeping is not an issue if you will spend most of your time hiking, the weather is great and the only time you will all be in the tent together is when you sleep. If you are travelling to a campsite with a car, intend to stay there for some days and may spend more time in the tent, then a larger one would make sense.
The space you need could also be described as livability and personal preference will come into it. Other issues when considering the size of the tent are these:
Do you want to be able to stand upright in the tent? Entry and exit from the tent may need to be easy for the less agile among us. Do you want to sleep on thick air mattresses, or a cot? This will affect the headroom and may also take up more floor space.
The Camping Season
The tent you choose should be suitable for the type of weather you expect to encounter. Tents are made to suit different conditions and can be very uncomfortable if they don't offer the right kind of shelter – too hot, too cold or not strong enough.
Summer camping means heat and maybe insects, and you will need plenty of air circulation and a fine mesh to keep out the bugs. If you enjoy the night sky you will want either windows in the wall of the tent or no fly sheet over you. If it's just a shelter for the beach you could have a single skin tent only.
Three season camping means you could encounter rain and wind, sometimes even a storm in spring and fall. The tent needs to be adaptable for different weather conditions. You will want it to be sturdy enough to withstand strong wind and gusts, to be water proof, to have good ventilation in wet weather to reduce condensation and perhaps be capable of being used without the fly sheet in hot weather – while keeping a bug-free area for sleeping.
Tents for Winter camping are often called 4 season tents, although they can be uncomfortable for use in hot weather. A winter tent needs to withstand the weight of snow and strong winds and will usually have a lower profile constructed with more poles for stability. The fabric is heavier and more durable.They should have extra room (a vestibule) for your pack and boots, but the whole needs to be lightweight for backpackers.
They tend to be more expensive than their 3 season counterparts using sophisticated technology and design to achieve the balance between strength and weight and to cope with the unpredictable nature of winter weather.
The style of camping
The type of camping you do will also be a big factor in choosing the best tent for your trip – or trips.
Campsites or Touring
Will you use the tent to go to campsites and spend time there? When you are staying in the same place for an extended period the speed with which the tent can be pitched is less of an issue, and more space might be desirable – for instance when there are children and adults with different bedtimes.
A family wanting to take advantage of activities and facilities at a campsite will have a very different set of priorities from a couple touring and setting up camp in a different place each night, or from someone setting off into the back country on foot.
Hiking and Backpacking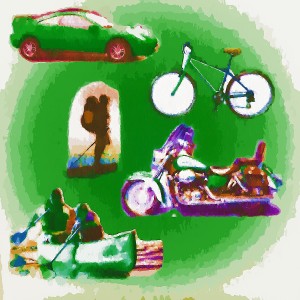 The style of camping you want to do will determine the transport you will use and the mode of transport you use will greatly affect the choice of tent. If you want to use the tent mostly for backpacking, then weight would be a consideration and you will be more concerned about a lightweight, highly portable tent than a car camper would.
Adventure and Wild Camping
Is kayaking or mountain trails your thing? Your needs will be different if you are going solo than if you are in a party. Tents can be packed so that the load is shared. – A motor cylist could be more concerned with the size and shape of the packed tent and having more space to keep belongings under cover.
Your Spending Budget
It's a good idea to give some thought to the amount you are prepared to spend in relation to the use you hope to get out of the tent you buy.
One off events
If you are going to a festival for a long weekend and are unlikely to camp again or you are a beginner just finding out whether you even like the camping life, you can just get something inexpensive that will do the job for a short time. You can always upgrade if you get hooked!
Durability
I Did say 'If', but let's say When that happens – now you will go whenever you get a chance 🙂 Then you may want a higher quality tent that will last for some time and stand up to use in a variety of situations. A tent that is due for long term use over several years of vacations should be made of good materials, have sound construction and be repairable.
A tent that has to see you through intense rough weather on a long expedition should be of the highest quality you can afford. It could save your life at some point.
How much do you need to spend?
When choosing your tent, try to list your priorities and how you are going to use it. Make sure your expectations are reasonable for the amount your are prepared to spend, and look for the qualities that fit.
As a beginner, you might want to experiment until you find your favorite type of camping, and it would make sense to not spend too much on your first tent, but do look for comfort and easy set-up so that you don't become jaded with the whole idea! You don't have to spend a fortune to have a good time.
If you love camping, spend a lot of your time doing it, and if you can afford a bit more, make sure you are choosing the extra, or higher specification features that will make a difference to your camping experience.
Value for Money is really about getting the best you can for your needs at a price that doesn't make you wince.
You might like to look at our tent review section or check out one of the comparison charts.  I will be adding more as I research them and will look at the different types of tent in closer detail.
I hope you will be helped by asking yourself these questions before buying, and that this gives you an idea of the type of tent you would like and helps you narrow down the search for the one to buy.
It would be great if you would like to Let us know what helps you choose a tent in the comments box below 🙂