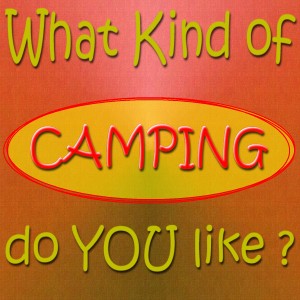 It's amazing how much the kind of camping you like can affect your choice of tent, and identifying what your kind of camping is will help to find the best shelter or tent to fit with your style.
I wonder, what's the first image that jumps into your head when 'camping' is mentioned? Is it sitting around a campfire singing songs, tramping around on the side of a mountain – or do you think of touring for miles in a camper van?

Essentially camping provides a means of escape from normal daily life and spending time outdoors. It may also be a means of taking employment opportunities that take you away from home or that involve moving around.
None of these choices is the RIGHT way to camp for everyone. Opinions vary and some have strong ideas about what camping is. The numerous ways of Experiencing the Great Outdoors through Camping is huge and this choice may account for its popularity among a wide variety of people.
Some of the things we'll take into account are Where you camp, how much Comfort you want and what Activities you like. We'll Start with the camping 'home' and how 'Outdoors' you want to be.
Cabin Camping
For those who simply want to find some peace and quiet away from the bustle and stress of city life without too much preparation, cabin camping provides an immediate respite. You won't need a tent and you can take as little or a much as you think you need to have some fun.  You could use a cabin as a base for walks, cycling or indulging in water-sports or just enjoy being away from the city and eating outdoors.
Some would say this is not strictly camping but hey! each to their own, and if someone can derive pleasure by being outdoors more than they can in their normal life, who's to criticise?
Recreational Vehicles (RV camping)
RV campers also enjoy the benefits of 'getting away' taking many of the comforts of home with the added freedom of exploring the country and stopping at different campsites. Many sites are geared up to this form of camping, with hook-ups for water and electricity etc. Rv's come in many shapes, forms and sizes to suit any number of situations.
You can take a boat or other recreational vehicles on a trailer and, depending on the size of the vehicle, although often unable to access remote areas that offer a more wild challenge, can access fairly rustic spots for a fun outdoor experience while having all the ameneties for comfortable living.
This is popular with those who prefer an extended camping trip and can be a rewarding way to enjoy a camping experience with children, for the infirm or the elderly. In fact, anyone wanting to explore the country can benefit from this type of camping!
RVs can be a major investment to the camper, but they can also be rented and make for an inexpensive vacation.
Car Camping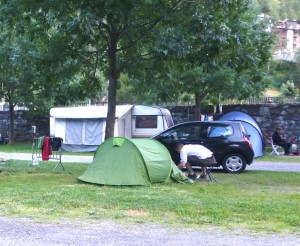 This is just a form of tent camping that means you have your own transport to get to the place where you will pitch your tent. You can take as much gear and equipment as you can fit in the vehicle, and you don't have to carry it all on your back, so that weight is not a major concern.
You can make your trip as luxurious or as adventurous as you like. You can spend your time outdoors around the campfire, going on day hikes, nature walks, climbing, boating or fishing, and enjoying each other's company.  It doesn't much matter if you get dirty as campsites often have showers and bathrooms to restore and freshen you as well as a plethora of other amenities to make your stay comfortable. You can choose your campsite according to how much 'roughing it' you want to do.
The car itself is a convenient container for coolers and food storage out of the reach of wildlife (essential in bear country) and a means of exploring the area from a base campsite.
Car camping is perfect for families with children wanting to experience nature and outdoor living with an element of adventure at an affordable cost.
With the open, social atmosphere of many campgrounds, the fun of singing and scary story-telling around the fire at night, learning about nature and healthy daytime running about, this is where many wonderful memories are built.
Many a hardy backpacker cut their teeth camping in this way, first as children and later with friends in their teens. For anyone at all this can be the perfect first step into a wilderness experience before undertaking a backpacking trip.
Backpacking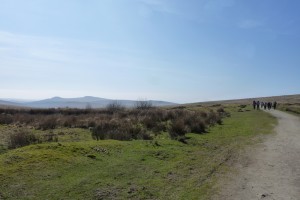 This is possibly the most exciting and fulfilling way to experience the natural world and wildlife. It's all about hiking and being close to nature.
Backpacking can be enjoyed as a weekend trip or for longer expeditions and, as with everything in life, there are many levels of expertise involved.
Backpackers might be young athletic college students, families, or adventurous adults of any age, but the one thing they have in common is being physically fit enough to walk some distance with a load.
It can be a mistake to think that you are automatically fit for backpacking just because you are good at another sport, but if you build up to it you'll be fine. A beginner of any age or fitness can start with short introductory trips and light loads, building up to longer distances over time. You don't have to cover huge distances to have a really good evening watching the sun go down and spend the night away from it all.
All essential supplies including food, water and shelter for the duration of the trip must be carried. You should develop a habit of packing only enough for the time you are away, selecting lightweight gear and packing efficiently.
New technology is constantly developed make gear weigh less and pack into smaller sizes. Even the gear to carry everything around has been improved for efficiency and comfort.
However short or long the intended trip, every person setting off into the wild on foot must prepare with care and ensure the safety of the party and the minimum impact on the area they visit. Backpacking is obviously more risky than other types of camping but, as long as the preparations are careful, it is worthwhile and definitely worth the effort it takes to do it.
Backpacking Variations
This kind of camping can be done following established trails in National Parks or by going  wild camping.

Who wants to go camping?
The appeal of camping covers people of all ages and abilities, so whether you are new to camping or a seasoned outdoor type, you should be able to find something in this series to inspire you to try something new.
Why not let us know what your preference is and what you think is great about it in the comment box below? It would be good to know what you like best.
In the next post we'll look at Where you camp and how much Comfort you want.