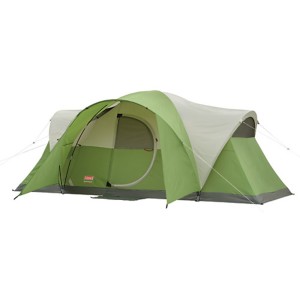 If you want to find a tent that is spacious and comfortable for a family of four to six people, this Coleman Montana 8 Tent review shows it is a strong contender.
This popular tent has a great deal to recommend it and has been one of the top choices among family campers and camping groups for many years.
Everyone is different and we all have our preferences so it's a good idea to know as much as possible about a tent before buying it, so do read on to see if this is the one for you.
The main purpose of this article is to highlight the differences between the Elite Montana 8 person tent and the Standard Coleman Montana 8 Tent.
These are the subjects looked at in the detailed review of the Montana 8 tents.
1. Size and Comfort
2. Season and Weather
3. Floor
4. Weight
5. Ease of Set Up
6. Dismantling, Breaking camp
7. Durability and Quality
8. Camping Situations for Your Tent(Best Uses)
9. Consumer Experiences
10. Out of the box
11. Manufacturer
12. Accessories (Included or to Consider)
13. Specifications
14.Features
15. Pros
16. Cons
17. Consumer Ratings
18. Price/Value
UPDATE 2020
The Montana 8 Tent pictured here is the standard version that is still available to buy from Amazon, and appears to be as popular as ever but at the time of writing is no longer available directly from Coleman USA as this tent has been upgraded to include some comfort driven extras.
The two appear to be listed together with a third in Black and Beige (smart, and an even higher price) as one, but the price changes as you change colour.
Some would say that additions and upgrades are luxuries they do not need or want, but the main thing to note is that the two tents are essentially the same design tent! For those looking for a tent without fancy extras, this standard tent is consistently rated 5/5 by buyers in early 2020.
The Model No. has changed since 2014 from 2000001594 to 2000027941NP but that is to be expected. Improvements are made as a result of feedback from consumers and the higher model number tells me that the manufacturers have been listening and making changes over the years. Obviously, they have continued production of the 'Standard' because of its popularity.
Now for the Comparison
I have made a very detailed and comprehensive review of the Elite® Montana™ 8 Tent with a close look at how comfortable it is to be in, the kind of weather it can withstand and many other aspects of using the tent in different situations. You can read that review here.
These detailed reviews are carefully researched to help you choose the best tent for your family camping adventures, whether you are seasoned campers or absolute beginners.
What is the difference…
…between the Elite and regular Coleman Montana Tents?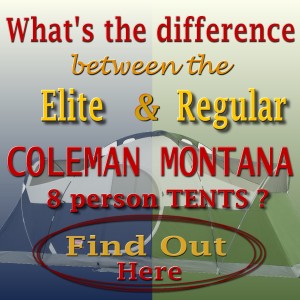 First of all, the most obvious difference is in the color. The Elite comes in dark blue and white with a red trim.
The green and white combination has been used for both versions as far as I can tell. The roll down windows and the built in light are the luxury items included with the elite and were were available, perhaps as an option I think, as long ago as 2009.
Other improvements that have been effected over time, such as the electrical-access port, are now included with the standard version of this tent.
One user states The elite has a 7 foot center height whereas the 'regular' Montana Tent is 6 ft. 2 in. center height but I think he has confused the width measurement. The max height in both is ft. 2in. Another says the regular has no rear window whereas the Elite does, but then, the Elite I saw had no rear window either.

I have included a product description from Amazon below
Update 2020
Although the standard model is still described on the Coleman website, they have no option to buy anything, so I conclude very little is available direct. All the parts and spares are still listed for the Elite tent, and basic replacements are the very same as those for the Standard. However, although Coleman still lists products the visitor is directed to search for retail partners.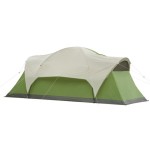 This tent is still available on Amazon and you can buy it here:
Don't forget, if you would like to read the detailed reveiw first, you can read it here – it will open in a new window so you won't lose your place!
An Early Review from 2009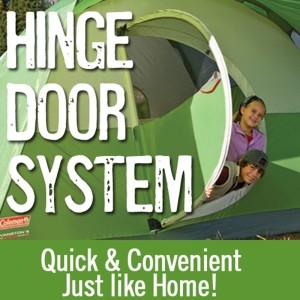 The hinged door is a feature of both versions of the tent. This is the earliest customer review of the Coleman Montana 8 Tent I found, and it mentions the light and window rollers.
4.0 out of 5 stars Roomy tent, August 9, 2009

This review is from: Coleman Montana 8 Tent (Sports)
This is a very roomy,sturdy tent. Had 2 queen sized mattresses in it with room for 1 more. Loved the built in light which was great as we camped with a toddler. Loved the way the windows rolled down and how the door swung open.
Product Description
A hinged door provides easy entry and exit, and a touch of at-home convenience.
Ideal for outdoorsy families and extended camping trips, the Coleman Montana 8 Tent offers a full feature set for a fun family camping experience. It sleeps up to eight comfortably, thanks to a generous 16-by-seven-foot (W x D) layout and spacious center height of six feet, two inches.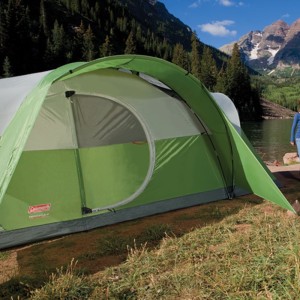 An innovative hinged door makes for easy in-and-out, and a vented Cool-Air Port and privacy vent window help improve airflow and keep things fresh. A convenient electrical-access port lets you run a cord from your device in the tent to a power supply outside, and interior gear pockets keep things organized.
The tent's modified dome structure includes a covered front porch and wings for plenty of outdoor living space. Setup is fast and simple, thanks to shock-corded poles, continuous pole sleeves, an exclusive pin-and-ring design, and InstaClip attachments. Stake and pole bags, as well as a convenient storage and carry bag with instructions sewn in, are also included.
They state that inside, there's enough room to stretch out on three queen-sized airbeds, however three beds will take up all the floorspace leaving no room to move around. Only you can decide whether that poses a problem.
A video Review too!
Price and Value
The hundreds of reviews and questions about both models of this tent show without doubt that it is enjoyed by very many users. Just be sure to check if it is for you and if so, I think the Coleman Montana 8 Tent deserves the 4.5 stars I give, and in january 2020 at under $200, whichever colour you go for, it is good value.
Check the Price Now for a Coleman Montana 8 Person Tent for Camping at Amazon
Save
Save