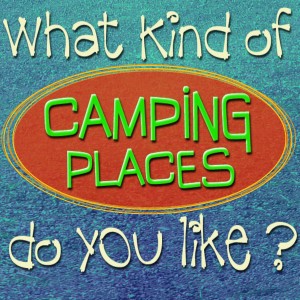 When choosing your tent it's useful to know the kind of surroundings you will be in, and what home comforts will be available so that the tent you buy is the best for the situation. If you want to know what to expect, or what to ask about the place where you'll be camping, read on.
This time I have written about the Kind of Camping Places different campers choose and the Degree of Comfort Available in each, to help discover what types of camping sites appeal to you.
If you are clear about what you want and know the questions you need to ask before going to a campsite, you will be able to plan with confidence and know what to bring with you.
Camping Grounds and Campsites
Campsites are generally accessible by road and you can drive to the camping area.  This means you can take whatever you need constrained only by the size of your vehicle. Choosing the your site will depend on the amount of frills you want, bearing in mind the more that's provided, the more you will pay.
Campsites vary in the amenities they provide but usually include features such as a water supply, shower rooms, bathrooms or outhouses. Some have fire places or made up fire pits and may have separate areas for tents and *RVs. They sometimes have an electricity supply to each pitch as well as a drain for waste water for the vans.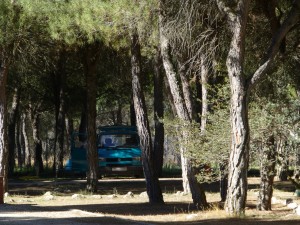 Even then the style of campsites can vary enormously. There are those that cater for more rugged camping, and I have been to beautiful campsites where the pitches are hidden among trees and give a feeling of being remote, but still have some basic facilities.
There are those that encourage families with plenty to do. Larger camping grounds may have a swimming pool, a small general store, a lounge area for wi-fi, even providing organised activities and crèche facilities for the kids. There are campsites that are bases for specialist sports too, such as fishing or climbing.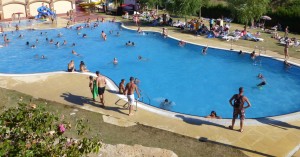 You can easily enjoy a night, a weekend or longer with only minimal planning, and they are very beginner and family friendly. With little need for high-tech equipment they can nevertheless be a great place to test out or practice using specialist gear.
Backcountry Sites
This is mainly for backpackers and, depending on the area, some other forms of travel such as bikes, motorbikes, kayaks or canoes.
These are sites found on hiking trails and are not normally accessible by road.  They may have a track or forest service road negotiable by ATV.
Backcountry campsites are mostly found in National Parks and are designated areas where camping is permitted. They are usually marked on maps of the area and additional facilities vary.  They are frequently simply a space with no extra features, but some may have a sleeping shelter or cabin, an outhouse, somewhere to light your fire and possibly a picnic table, *bear hangs or other related facilities.
This kind of camp site can come close to feeling 'wild' and can be a valuable learning experience for eventually 'going wild'.
Many national parks throughout the country provide access to backcountry camping.
Mike Bradshaw's video shows this kind of campsite very well
Impact on the landscape
Backcountry campers will often use spots that are obviously well used, but have not been designated or designed for camping.
Sometimes you may find a place where it is clear that camping has taken place, noticeable as a result of the presence of a fire ring or similar, in the location.
They are mostly found on hiking trails but are not marked on maps as designated camping areas. There are no facilities provided at such places and it is a matter of personal responsibility to leave as little trace of your passing as possible and is even more important when camping in the wild.
See Leave No Trace for more information.
Wild Camping
For those with a desire to travel off the beaten path to camp in a pristine area the skills and gear needed will be of a specialist nature.
The dangers of wild camping should not be underestimated and should be done only by those with experience in off trail traveling. This can be gained at first by being in the company of a person who already has that experience.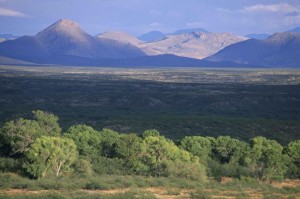 Wild camping may be undertaken in any weather – and on all sorts of terrain. You could find yourself on a wild and remote coastal area, in a forest or up a snowy mountain.  The possibilities are endless and every situation needs to be assessed individually.  This is no place to try to offer specific advice, being a general article written to prompt the reader into identifying his or her preferences – or to inspire the reader to investigate further.
There are advances in the technology used for all the different gear that can be obtained for specialist camping and it's a good idea to keep up with additions and advances that will make your trip safe.
The price both in money and effort can be higher than other types of camping but the rewards of this style of camping are great. The discovery of your own unique and secluded destinations and of your own resources of endurance and peace – now that is the stuff adventures are made of.
Finding a Campsite
Every state has great camping destinations in state parks, national parks and forests and corps of engineers recreation areasas well as private campgrounds. One place to start is at Reserve America. You can find and make reservations at thousands of campsites all over the country.
How Does This Information Help With Choosing Gear?
Before you buy your equipment and tent for your trip you need to decide the kind of camping you want to do, and what the gear needs to do for you. Knowing where you would like to camp is one of the elements that will help you choose the Equipment and Tent you will need.
I wonder which kind of camping place sounds right up your street – why not let us know in the comment box below!