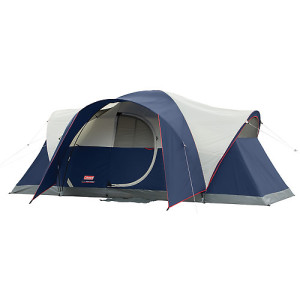 The sturdy modified dome construction and the layout of The Elite® Montana™ 8 Tent makes it an ideal choice for an extended stay with the kids. The tent is spacious and comfortable, and the layout is long and narrow, rather than square. This is the upgraded version of the Coleman Montana 8 Tent, the same design but with added features and a change of color.
The decision to buy a tent is in the detail, so I have set out all the features and their performance to help you discover whether this is the right tent for your family or group.

Check the Price Now at Amazon 
The maximum height and the door are in the middle of the length of this tent and it has windows at each end. The Mesh roof on the inner tent allows air flow and makes for a light interior during the day.
UPDATE 2020
I originally wrote this review in 2014 when the 'Elite' was a relatively new upgrade and the extra technological features were considered exciting and luxurious. The expectations of consumers were less demanding at that time, but comfort has always been paramount, even when it was more difficult to arrrange!
The WeatherTec system that features patented welded floors and inverted seams appaers to have held up well with much of the most recent feedback  giving high scores. There was even one person who took the trouble of  coming back to say they had used the tent extensively for about 8 years.
As  I mentioned before, if the instructions are followed and you take care of the tent it is likely to be money well-spent that will give several seasons of enjoyment.
Still, you need a tent that suits what You and Your family like to do, so read on to find out whether this is the right tent for you.
Size and Comfort
To get the most from this tent you'll need to think about who is coming and what you want to do. It is one thing for a family with small children and quite another for a group of hefty adults. The sleeping arrangement you need will affect the amount of space left for eating and storage.
Mattresses and Sleeping mats
Coleman states that there is room for eight people OR three queen airbeds, but remember that this is the maximum capacity of the tent leaving very little floor space. Unless the weather is fine enough to spend all your time outdoors, including eating, you wouldn't want to fill it to that extent, and even then you might prefer to only have mattresses at each end and leave the central entrance area clear. On the other hand, with a floor area of 16 ft. x 7 ft. (4.87 m x 2 m) you can fit 8 sleeping bags with mats in this tent. That's good to know if it's going to be for a scout group, for instance. Even so, 6 people would be more comfortable.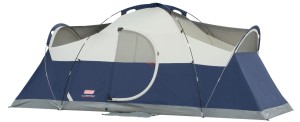 A queen airbed set with the length in the 7 foot dimension is quite a snug fit, so care must be taken to ensure you keep it from touching the sides. A family with 3-4 children of varying ages should be comfortable in this tent if sleeping mats are used for the kids and just one queen airbed for the parents. Alternatively you could have a queen and twin air mattress or you could fit a pack and play at one end.
Click to Check Prices of Pack 'n Plays at Amazon
Well, there are several ways to set up the sleeping arrangement. If you prefer not to sleep on the ground and want to use cots, there is enough headroom for that. You can put 2 cots or twin air mattresses at each end. Placing them side-by-side with the feet toward the middle of the tent will still leave some space for gear in the middle by the door.
Rooms
The Elite® Montana™ 8 Tent does NOT come with room dividers. Nor does it lend itself to easy conversion as it has nothing integral to which you can tie things.
If a two-room tent is a requirement for you, you might want to consider the Coleman WeatherMaster 10 Person Hinged Door Tent which has a center Room Divider. It is similar in design but, as far as I can tell , this model does not yet have the fitted switched light of the Elite Montana 8.
Standing room
At 6'2″ in the center there's enough headroom for most people to stand and walk about in this tent – although a tall person would have to stoop at the ends, assuming they are not being used for beds.
Getting in and out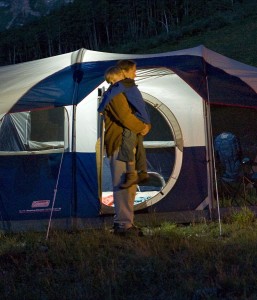 The hinged door is a great plus making it easy to go in and out. It has a convenient velcro fastening for daytime use and zips up securely once you're all settled in for the night. The zipper is of good quality too, and it can be used without installing the door frame if preferred.
The door is quite narrow at the bottom because of the curve so there is just one thing to think about if anyone in your party has some difficulty walking, and that is the need to step over the threshold. I know an energetic man with a leg that is held straight with a brace, and although normally he can step over a few inches, the 'swing' space needed for this would not be sufficient to do it easily. No doubt this man would find a way round it, but it slightly reduces the convenience for such a person.
The rainfly forms a porch with wings over the doorway. If there's a gentle rain and you want to leave the door open it prevents the water from coming inside. If it's sunny it provides a shaded spot to sit and watch the world go by.
When you have to eat inside
Depending on how many you are, and if you are able to leave the central area free it does make a pretty good spot for a table for 4 people to eat under shelter.
Check the latest price Now at Amazon 
Storage of small belongings
When you consider that the Montana is meant for up to 8 people it does not score very well on having places to put your little bits and pieces off the ground. You would probably have to keep your cellphone by the bed or in a day bag, if you have one. The tent does not have a gear loft as the usual spot for this is taken up by the light. However, there are two good size mesh stow pockets for smaller items – one at each end of the tent.
Convenience
The small zippered opening at the long side (you could say the back) allows easy access to a cooler and doubles as a small ventilation inlet at ground level.
There's also a port for an electrical cable at the lower left corner of the tent.
Little extras go a long way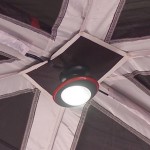 I know you can hang a flash light from the top of a tent, but it's a nice touch to be able to turn on a light from a switch by the door! This tent comes with built-in LED light giving 100 lumens of light making it easy to see what you're doing all round. You can send the kids in to get ready for bed or read them a bedtime story, and there are 3 settings so that you can have a low light while the youngest ones drop off to sleep. Aahh, the little cherubs 😉
You do need to take care to fit the light properly with the notches lined up before you turn it to lock it in place. If it falls off because of a bad fitting the fall is likely to break the lamp.
The self-rolling windows are cool, oh yes they are! As you unzip they roll up neatly and you can set them at any position you want. No messing about with ties or wondering whether the ties are still attached. You'll be the envy of the campsite…
Season and Weather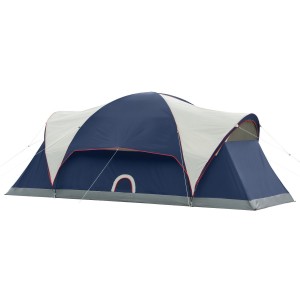 Larger recreational tents are rarely meant for very extreme weather, but they can cope with wind and rain, and lots of people have happily used this tent for camping in spring and fall as well as in the height of summer. If you are camping in the cold you will need extra bedding.
This tent should keep you dry in rainy weather when using the rainfly. The seams are taped and the corners are welded. By reading the experiences of a great many readers I have concluded that it is important to stretch out stake out the rainfly properly so that the rain runs off.
See note1
The windows are set sloping in at the base. They call this a "Negative-angle" and viewing during an afternoon shower is possible because primary structural pole creates an overhang for the fly to protect the window so that it can be partially or fully open during a mild rain and for ventilation during a gentle night-time rain. The windows can be zipped closed for cold weather.
This is a sturdy tent that performs well for its size in windy conditions. The long design means that it can hold up better than a square straight-sided tent in strong winds, provided it is pitched with the shorter sides against the prevailing wind. However, a tent of this size is unlikely to do as well as a very small rounded one.
Ventilation and bug protection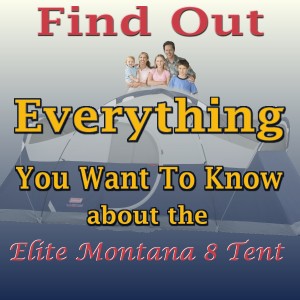 There is a lot of mesh at high level, and in dry conditions without the fly, it's plenty, but once you have the rain fly on there are only two windows, one at each end, and the door. The door has a mesh screen in the upper half with a roll up cover. If you sleep on the ground it will lack the gentle breeze that many like when sleeping. There is no window in the rear wall and the only air intake there is the cable port.
There are varying reports about this; some say the tent is well ventilated and others swear it's too hot. I think it's both very subjective and dependent on weather conditions. Some people sleep cooler than others. It's a tent, and any tent has to achieve a balance between being open to the air, remaining waterproof and privacy.
That said, in hot humid weather the more big people you have in the tent the worse it will be. Six big energetic college kids in hot weather would generate a lot of heat and condensation and likely be pretty uncomfortable, (sounds like my idea of hell actually) whereas a couple with four little kids and a dog might not suffer much at all. I think it could well get stuffy with eight people of any size when it's hot and wet in any tent of this size.
The mesh is fine and will keep out all including teeny insects as long as the usual attention is paid to keeping the door closed except to go in and out. Pay extra attention at dusk perhaps by using the zipper and remember that a light left on inside is a magnet to bugs!
In wet weather, particularly if it's warm, it's wise to make sure condensation is kept to a minimum by ensuring there are no piles of wet clothing to add to the problem.
Floor
The floor is made of Polyethylene (PE) and is welded to the tent walls several inches above ground level to make for a good waterproof seal and a 'tub' design that keeps water from seeping in.
Even so, it's a good idea to take a tarp to put under the tent. If you use cots there will be pressure points especially on stony ground. Not only will a tarp give added protection but will help to keep the outer surface clean, making it easier to pack the tent at the end of the trip. Tuck any edges that show outside the edge of the rainfly under so that falling rain can soak into the ground rather than over the tarp.
I mentioned a dog back there in the ventilation section – Loads of people love to take their dogs with them on camping trips. Although the floor is made of a tough puncture resistant material, dog's nails can be very sharp and hard and even if they don't make a hole, you will certainly extend the life of the floor if you put some matting down.
Weight
Elite Montana 8 Tent weighs in at around 25 pounds which is manageable when getting in in and out of the car but rules out carrying it over any great distance. This is not a backpacking tent, but if you have a strong person handy I guess you could take it a few hundred yards to get away from the service road. Ideally, get the car as close as possible to where you want to pitch and move it away afterwards.
Ease of Set Up
Pitching this tent is easy to do with two people, even if the second person is a child. Although with a little patience and care one strong person can do it, it is much better and faster with two.
The method is simple. The tent is spread on the ground and the poles slipped into the sleeves. The poles are then secured into each pin and it's useful for one person to hold it there while the other secures the opposite end, pulling the tent up automatically. The pin-and-ring design is easy for beginners.
With practice the tent can be set up within 15-20 minutes by most people. Doing it alone could easily take more than twice as long.
The instructions are clear and easy to understand, even for a beginner. You can see a copy of the Coleman Elite Montana 8 Tent manual by clicking here
Dismantling, Breaking camp
Although taking the tent down presents few difficulties, it's a good idea to give yourself plenty of time. Always remember to stow the poles and stakes separately in the bag provided first. The tent will be rolled around the bag.
Lay the tent flat on the ground and fold it lengthways. You do need to fold it carefully with the rainfly inside the tent and the windows open to let the air out. Then roll it tight around the pole bag to fit it back in the carry bag. Naturally, the cleaner and drier the tent is, the easier it will be.
Separate storage bags for poles and stakes are included with the purchase and the instructions are sewn into the carry bag.
Durability and Quality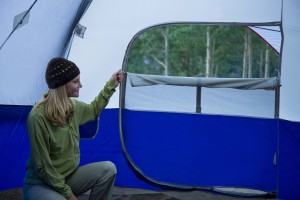 The construction quality of this tent is high having inverted seams with multiple lines of stitching, and welded joins in vulnerable areas.
The tent is made from strong lightweight materials. With the right care it should last many camping trips without failure.
The zippers are good quality.
It may be sensible to apply a waterproof spray after a few trips and to check the seams if they have been stressed by stormy weather.
The poles, made of strong and flexible Fiberglass are not intended for use in deep winter as they may become brittle in extreme cold.
The stakes are designed for soil. You may need stronger stakes than the ones supplied for hard ground. For camping on sand you will need longer stakes, or extra sandbags to anchor the tent.
The tent fabric is tough and light-weight, but can be damaged by sharp objects so avoid rough handling during packing and unpacking. Most users have not needed a ground tarp, but in stony areas it is wise to use one, and interior mats are recommended where stress points will occur or dogs with sharp claws may come inside.
Camping Situations for Your Tent (Best Uses)
A family of four or five would find this tent very comfortable both for short camping trips and longer vacations.  It is easy and quick to set up, so that touring with a small family would not be out of the question, especially if each stop comprised several days.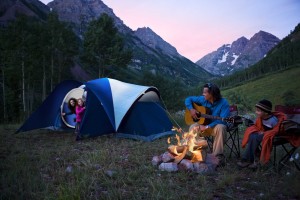 A tent of this size is not one to be carried over any great distance by one person; hiking with such a large a tent would be uncomfortable so it is not suitable for backpackers – unless it is used as a base camp for larger groups intending shorter backpacking excursions over a long period. It is, however, ideal for car camping and family camping. Groups of six to eight people such as scout groups may also find it suitable.
Families who enjoy backyard camping or who have a lively bunch of kids and their friends coming round often would get good use out of this tent too. The kids would have a lot of fun and the parents would benefit from some time to themselves of an evening!
This tent would provide very convenient and inexpensive accommodation during an event such as a family reunion or a wedding where folks have to come from far and wide to attend.
*Remember, this is a tent for up to eight people, and it is very suitable for smaller families who want room to move about. It is very popular with families of four with young kids, but it won't provide much space for belongings if it is used to capacity. Little floor space would be free and you would have to be thinking of it in terms of a dormitory…
Consumer Experiences
Here we have some things people have said about the Elite® Montana™ 8 Tent
We were very satisfied with our purchase. The fly was more time consuming to put up than the tent itself but I am sure over time it will become less time consuming as we get used to setting it up.
Tent is very good choice for extended camping trips. Plenty of room for sleeping and gear. Easy to pitch for it's size.
The built in lighting system was very handy. This tent is also built to vent very well. I had no issues with condensation inside the tent. I stayed perfectly dry and perfectly comfortable. It is also fairly light weight, considering how big it is when set up.
Not enough ventilation! This is the biggest con. There are only 2 small vents near the top on the ends. If you are planning on going to a warmer area, this tent just won't cut it. It needs larger windows to cool it off during the day- and at night, especially when you need a place for naps for sleeping children. If you are going to a shady mountain area, this would probably be a great tent though. I like to have the openness of windows without taking off the rainfly. And you need the rainfly on for privacy when changing clothes.
Door: You have to play with the tension of the tent to make sure it closes on its own. If the tension is to tight the door will stay open just a little. But if you loosen it up just a little it works great!
I never had a problem with rain with this tent. If rain + strong winds, there's always a chance rain can fly side and underneath rain fly. No matter what tent you get, that will happen. But the rainfly fits on like a glove. You can apply Grangers water proof spray on the rainfly to reinforce the water proofing.
Weather: This tent out-performed my other tents in inclement conditions
You need to be a bit delicate with this tent, as it can easily rip if not careful when threading the poles through the vinyl loops. Also, the lightweight allowed for us to easily feel the cold.
A little too Narrow – 12X7? 12X8 would work better for our needs to allow for air mattresses and gear. This tent would work very well if you plan on 2 queen sized air mattresses, one on each end though. If you only plan on 4 people this would be fairly roomy.
It RAINED the first two nights!! NO LEAKS!! The tent was Awesome! We stayed dry the entire weekend! The LED light inside the tent was really bright! We had two queen size mattresses and room for a folding table (Lots of Room)! I would absolutely recommend this tent!!
The setup was very difficult in the wind, even with my son (he is only 8).
We did love the tent bag, it has enough room to make the tent fit (even if you don't fold it nicely) plus there is a nice little extension part to make the bag bigger. We loved that!
Great tent except for people who are a little claustrophobic. Windows do not come all the way down to floor, which is the one part I do not like about it.
The elite has self rolling windows a built in light and switch and I can say is truly water proof.
NOTE: I did notice the following statement and it prompted me to emphasize the importance of staking, after all, the tent is designed to be staked!
"The rain top has strings on it to stake down which in my opinion are pointless, once it is on there, it is on there pretty tight.
It the rain top did leak a bit but I figure it was because the rain was not running down but was staying put in some places."
Hmm.. Maybe he's not too good at figures?
Out of the box
The Coleman Elite Montana 8 comes with the following:
Inner tent and fly
Poles and stakes
Led light and battery pack in its own storage case (Elite only)
separate storage bags for poles and stakes
instructions sewn into the carry bag.
Manufacturer
The Coleman Brand is well known for producing quality tents has a reputation for good customer service.
Accessories to Consider
Rechargeable CPX™ 6 cartridge or four D cell batteries for the lighting.
Consider stronger or longer stakes, depending on the ground.
You will need a stake hammer
Spares and repair kits for the Elite® Montana™ 8 Tent are available from the manufacturer.
Specifications
Product Description
With built-in CPX 6 LED lights, the Coleman Elite Montana 8 Person Tent with Hinged Door lets you keep the outdoor fun going through the night. This eight-person tent sets up in just 15 minutes with its Insta-Clip continuous poles. Those rainstorms don't stand a chance with its waterproof WeatherTec System and awnings. When the lights run out of juice they can be powered by either four D-cell batteries or the included CPX 6-powered energy pack.  Easily holds up to eight people. Sets up and tears down in 15 minutes with its Insta-Clip continuous poles. Durable TC fabric construction. Waterproof WeatherTec System.
Details
The tent includes shock-corded poles; color-coded pole sleeves; pin and ring design; Insta-Clip hooks; separate storage bags for poles and stakes; and easy-to-follow instructions sewn into the carry bag.
Capacity: up to 8 People
Dimensions: 16L x 7W x 6.16H feet.
Center Height: 74.0 " H
Packed Dimensions: 33″ x 14″ x 9″ (inches)
Carry weight: approx 25.35lbs
Shipping Weight: 30 pounds
Number of Rooms: 1
Material: Polyester
Ceiling Material: Polyester/No-See-Um Mesh
Floor Material: Polyethylene (PE)
Rainfly Material: Polyester
Pole Material: Shock-Corded Fiberglass
Protective Qualities: Water Resistant, Flame Retardant, Wind Resistant
Tent Door Style: "D" Style Door
Number of Doors: 1
Number of Windows: 3 (one in the door)
Body Waterproof Rating: 450mm
Rainfly Waterproof Rating: 450mm
Set-up Time: 15-min.
Safety and Security Features: Meets CPAI-84 Flammability Requirements
Care and Cleaning: Air Dry, Wipe Clean With a Damp Cloth
Warranty Description: 1 Year Limited Manufacturer Warranty
Season Compatibility: 3 season
Features
Exclusive WeatherTec™ System Keeps you dry Guaranteed™
Built-in LED lights, 100 lumens
On-the-wall light switch with four settings: high, low, nightlight and off
Runtimes: 26 hours on high, 65 hours on low, 81 on nightlight
Lights powered by rechargeable CPX™ 6 cartridge or four D cell batteries, both sold separately
CPX™ 6-powered energy pack included
Auto-roll windows neatly roll down when you unzip them
Patented hinged door for easy in and out – Door can be used without installed door frame
Cabin-like design with specially-angled windows that keep rain out even when they're open
Door awning, protection from rain and sun
WeatherTec™ System, patented welded floors and inverted seams keep water out
Rainfly for weather protection, mesh roof for more sunlight
Insta-Clip™ pole attachments stand up to winds
Snag-free, continuous pole sleeves for easy, 15-minute setup
Carry bag with separate storage bags for tents, poles and stakes
Organizer Pockets, Electrical Port,
Welded Floor Seam, Taped Seams, Inverted Seams, Shock-Cord Poles, Mesh Windows
Protective Qualities: Water Resistant, Flame Retardant, Wind Resistant
16 ft. x 7 ft. (4.87 m x 2 m), fits eight people or three queen airbeds
6 ft. 2 in. (1.88 m) height, room to stand and move
1-year limited warranty
Made in China
Pros
Comfortable
Easy To Set Up
Fly Works Well
Lightweight
Sturdy and Durable
Waterproof
Windproof
Cons
A bit narrow
Needs to be handled with care
Consumer Ratings
The average rating is 4.1 stars. This includes low ratings for poor service from some suppliers. I take ratings from several suppliers' websites.
Price
While reading the hundreds of reviews and questions about both models of this tent, it became evident that the experiences and degree of satisfaction of users of this tent often depended partly upon their level of skill, but mostly on their willingness to follow instructions and explore its idiosyncrasies. While no tent is likely to be perfect for every user, I believe the Elite Montana 8 Tent offers good value for money and I am happy to award 4.5 stars.
Check the Price Now for the Coleman Elite Montana 8 Tent at Amazon
Save
Save